Stocks trim losses, close modestly lower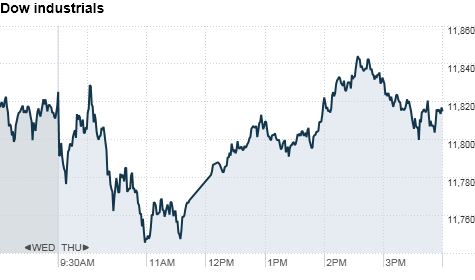 NEW YORK (CNNMoney) -- U.S. stocks recovered from early weakness Thursday to close modestly lower as technology shares remained weak and worries about the downside of China's robust economy hung over the market.
The Dow Jones industrial average (INDU) lost nearly 3 points, or less than 0.1%, to close at 11,822.8. The S&P 500 (SPX) slid over 1 point to end at 1,280. The tech-heavy Nasdaq (COMP) fell 21 points, or 0.7%, to close at 2,704.
After the market closed, Google (GOOG, Fortune 500) reported quarterly earnings and sales that topped analysts' expectations and reshuffled its management. The search giant said Eric Schmidt is stepping down as chief executive, with cofounder Larry Page taking over in April.
Google shares edged up 1% in after hours trading.
Also after the bell, Hewlett-Packard (HPQ, Fortune 500) announced that four directors are stepping down. Five new directors will join the company's board, including ex-eBay CEO Meg Whitman.
Stocks opened lower Thursday after a stronger-than-expected report on China's gross domestic product "spooked people that China has more tightening to do than we originally thought," said Paul Zemksy, head of asset allocation at ING Investment Management.
"China is a very important part of the recovery and expansion of global GDP," he said. "Until we see signs of moderation in their growth and a slowdown in inflation, I think the market is going to be a bit jittery about that."
Companies with exposure to China were among the worst performers on the Dow, including Caterpillar (CAT, Fortune 500), Du Pont (DD, Fortune 500) and Boeing (BA, Fortune 500). But consumer-linked stocks such as Wal-Mart (WMT, Fortune 500), Procter & Gamble (PNG) and Home Depot (HD, Fortune 500) were the top gainers on the blue-chip index.
Bank stocks, which have been battered by mixed earnings results, regained some ground. Bank of America (BAC, Fortune 500) and JPMorgan (JPM, Fortune 500) were both up over 1%. Morgan Stanely (MS, Fortune 500) was up 4.5% after it posted better than expected quarterly earnings, but missed on sales
In the technology sector, shares of F5 Networks (FFIV) plunged 20% after the maker of Internet networking devices issued a dour outlook for the second quarter.
Commodity prices were also under pressure. Oil prices sank after the government reported a surprise jump in U.S. crude supplies. Gold and silver prices fell as the dollar strengthened.
The retreat came despite better-than-expected reports on U.S. home sales and weekly claims for unemployment benefits. Some traders said the market appears to be entering a "correction" phase, although any retreat is expected to be modest.
"With so much bullishness in the market, it's not surprising to see a bit of a pullback," said Brian Gendreau, market strategist at advisory firm Financial Network.
On Wednesday, stocks ended lower, with tech stocks getting hammered and the Nasdaq suffering its biggest one-day loss in nearly two months.
Economy: The number of Americans filing for first-time unemployment insurance eased by 37,000 to 404,000 last week. The number was lower than forecast.
The National Association of Realtors said sales of existing homes rose 12% in December to a seasonally adjusted annual rate of 5.28 million. The total was much larger than expected.
The Philadelphia Fed index, a regional reading on manufacturing, edged down in December. And the index of Leading Economic Indicators increased more than expected in December.
World markets: Asian markets ended sharply lower following China's GDP report. The Shanghai Composite tumbled 2.9%, the Hang Seng in Hong Kong lost 1.7% and Japan's Nikkei fell 1.1%.
China's gross domestic product, the broadest measure of economic output, expanded at an annual rate of 9.8% in the fourth quarter of 2010. The rate was faster than the 9.6% rate reported in the prior quarter, according to the National Bureau of Statistics.
Meanwhile, inflation cooled -- with the nation's consumer price index rising 4.6% last month, compared to 5.1% in November.
China's rapid growth has sparked fears that its economy may overheat, and many economists are expecting China to further tighten its monetary policy and hike interest rates.
European stocks also slumped. Britain's FTSE 100 slid 1.8%, the DAX in Germany fell 0.8% and France's CAC 40 edged down 0.3%.
Companies: Google said its net income in the fourth quarter rose to $2.5 billion, up 29% from a year earlier.
The results included one-time charges of 94 per share. Without the charges, Google said it earned $8.76 per share. Analysts polled by Thomson Reuters, who typically exclude one-time items from their estimates, forecasted earnings of $8.10 per share.
Sales for the company rose 26% to $8.4 billion. Excluding advertising sales that Google shares with partners, the company reported revenue of $6.3 billion, which topped analysts' forecasts of $6.1 billion.
Morgan Stanley (MS, Fortune 500) posted fourth-quarter earnings of $1.1 billion, or 43 cents a share. Revenue rose 14% from a year earlier to $7.8 billion. Analysts expected the investment bank to report earnings per share of 35 cents on revenue of $7.35 billion. Shares of Morgan Stanley rose 4%.
Wendy's/Arby's Group shares spiked 9% after the fast food giant announced it may sell its struggling Arby's roast beef sandwich chain to focus resources exclusively on the Wendy's brand.
F5 Networks said it expects to report second-quarter sales in the range of $275 million to $280 million. Wall Street analysts surveyed by Thomson Financial were expecting revenues between $272 million and $308 million.
Currencies and commodities: The dollar gained against the euro, the Japanese yen and the British pound.
Oil for March delivery fell $2.22 to close at $89.59 a barrel.
Gold futures for February delivery fell $23.70 to settle at $1,346.50 an ounce.
Bonds: The price on the benchmark 10-year U.S. Treasury fell, pushing the yield up to 3.45% from 3.34% late Wednesday.