Stocks end mixed after late-day recovery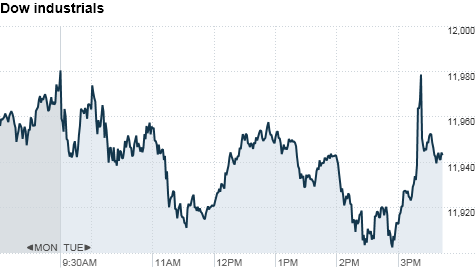 NEW YORK (CNNMoney) -- Stocks closed mixed Tuesday, after making a come-back in the final hour, as investors digested earnings results from a host of blue-chip companies, mixed reports on the U.S. economy and surprisingly slow growth in the United Kingdom.
The Dow Jones industrial average (INDU) fell 3 points, or less than 0.1%, according to early tallies. The S&P 500 (SPX) closed flat; and the Nasdaq (COMP) added nearly 2 points to 2,719.
Stocks opened lower after government data showed the U.K. economy shrank unexpectedly in the fourth quarter. The selling gained momentum as investors responded to dour quarterly results from 3M (MMM, Fortune 500), Johnson & Johnson (JNJ, Fortune 500) and American Express.
But upbeat results from Travelers (TRV, Fortune 500) helped curb some of the selling. The insurance giant reported a 30% drop in quarterly net income, but issued an optimistic outlook for the rest of the year.
Verizon was another bright spot. Shares rose 1.3% after the telecom announced a $30 unlimited data plan for the iPhone. The company amended the statement later in the day, saying the package would be available "for a limited time."
"In this environment, the market really punishes you if you miss [earnings], and stocks don't react all that well even when you beat," said Benny Lorenzo, chief executive at Kaufman Bros.
Lorenzo still believes that stocks are headed higher this year, but he acknowledged that questions remain about corporate earnings growth, as more companies warn about rising commodity prices.
"It's going to be very tough for margins to expand, and that's going to be reflected in the market," he said.
Investors were also responding to a sharp drop in home prices, and a stronger-than-expected report on consumer confidence.
In the commodities market, prices for oil and gold futures fell sharply. However, prices for cotton futures rose to a record high amid speculation about tightening supplies and increasing demand from developing economies.
Jean-Claude Trichet, president of the European Central Bank, warned over the weekend that central banks should be wary of rising commodity prices. The comments fueled speculation that the ECB is planning to raise interest rates.
Stocks began the week with a solid start, logging modest gains on Monday. The Dow has been on an upward trend since Thanksgiving, and is now within a stone's throw of 12,000 -- a level last seen on June 18, 2008.
Despite the pullback on Tuesday, many investors expect the market to grind higher this year as a gradually recovering economy helps support corporate earnings going forward.
"It's going to be choppy, but still continuing an upward trend," said Tom Winmill, portfolio manager at Midas Funds. "There's an expectation that earnings will keep improving and we're looking for more surprises on the upside."
Companies: Shares of Tellabs (TLAB) plunged 19% after the communications equipment maker issued a lackluster outlook for first-quarter earnings.
Harley-Davidson (HOG, Fortune 500), the iconic motorcycle company, reported a quarterly loss that narrowed from last year, and topped analysts expectations. Shares gained 8%.
After the bell on Monday, American Express (AXP, Fortune 500) reported earnings of 94 cents per share on revenue of $7.32 billion. The numbers fell a hair short of analyst estimates. Shares sank 2.3%.
Yahoo (YHOO, Fortune 500) is slated to report the market closes Tuesday, and is expected to report earnings per share of 22 cents on $1.19 billion in revenue.
Economy: The Case-Shiller index of home prices in 20 major U.S. markets was released before the opening bell. Signaling that the slump in home prices has deepened, the index fell 1% in November compared with October.
The Conference Board said its index of consumer confidence rose to 60.6 in January, up from 53.3 in December. It was the highest level since May 2010 and came in stronger than expected. The index was forecast to increase to 53.5.
President Obama is scheduled to deliver his State of the Union address Tuesday night, during which he is expected to talk about the health of the U.S. economy -- especially the labor market.
World markets: European stocks were lower. Britain's FTSE 100 fell 0.4%, after data showed the U.K. economy shrank 0.5% in the fourth quarter, versus a projected 0.5% increase. The DAX in Germany slid 0.1% and France's CAC 40 tumbled 0.3%.
Asian markets ended the session mixed. The Shanghai Composite fell 0.7%, and the Hang Seng in Hong Kong ended barely below breakeven. Japan's Nikkei rose 1.2%, after the Bank of Japan kept interest rates steady but boosted its 2010 GDP forecast and said deflation is continuing to ease.
Currencies and commodities: The dollar surged 1% versus British pound, but fell against the euro and Japanese yen.
Cocoa futures were up 1.5%, after soaring more than 4% in the previous session as the Ivory Coast called for a one-month export ban.
Cotton futures for March delivery rose to an intra-day high of $1.67 a pound, reaching the highest level on record at the InterContinental Exchange.
Oil for March delivery slipped $1.68 to settle at $86.19 a barrel.
Gold futures for February delivery tumbled $12.20 to end at $1,332.20 an ounce.
"It's been a mixed market for commodities lately, but it's generally been favoring oil and not gold," said Winmill. "There's going to be a rough patch for gold now, because with rising equity prices there will be more optimism for U.S. markets and less worry about finding a safe haven."
Bonds: The price on the benchmark 10-year U.S. Treasury rose, with the yield falling to 3.32% from 3.41% late Monday.
The Treasury sold $35 billion in 2-year notes Tuesday in the first of this week's debt sales totaling $99 billion.