Stocks post gains despite Egypt unrest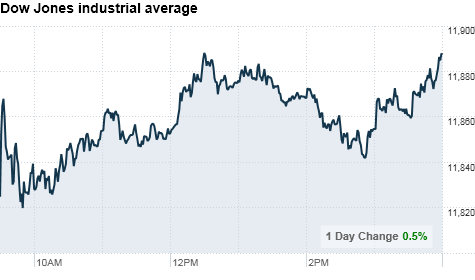 NEW YORK (CNNMoney) -- U.S. stocks posted solid gains Monday as investors focused on the positive earnings news out of Exxon Mobil and rising commodity prices, while continuing to monitor the ongoing political unrest in Egypt.
At the final close on Monday, the Dow Jones industrial average (INDU) rose 68 points, or 0.6%, to 11,892 the S&P 500 (SPX) index added 9.8 points, or 0.8%, to 1,286 and the Nasdaq Composite (COMP) was up 13.2 points, or 0.5%, to 2,700.
Energy shares led the Dow higher, led by Exxon Mobil (XOM, Fortune 500), which reported a 46% jump in fourth-quarter earnings. Chevron (CVX, Fortune 500) rose 1.7%. That helped lift the Select Sector Energy Select Sector SPDR Fund (XLE), an energy ETF that counts Exxon and Chevron among its top holdings.
Shares of Chesapeake Energy (CHK, Fortune 500) jumped 8.1% after the natural gas producer sold a 33.3% stake to Cnooc Ltd (CEO)., China's largest producer of offshore oil and natural gas.
Oil prices continued to trend higher amid the ongoing tensions in Egypt. Crude prices spiked more than 4% Friday on worries about potential disruptions to shipments through the Egypt-controlled Suez Canal. Oil prices gained 2.9% to settle at $92.19 a barrel on Monday. That marked its highest close since Oct. 2, 2008.
"The market is very nervous," said Andrew Lebow, a broker with MF Global. "We have so much crude that goes through Egypt that it really becomes a concern."
It's not just oil rising. Other agricultural commodities, such as corn and wheat moved higher. All were up more than 2% on Monday.
"I think stocks got sidetracked by Exxon's results earlier in the day and once people got a chance to put Exxon aside re-focus on the Egypt situation we saw commodities break out," said Frank Davis, director of sales and trading at LEK Securities.
Protests in Egypt continued over the weekend, leading rating company Moody's Investors Service to downgrade its rating on the nation's debt to "negative" from "stable".
Stocks recovered a portion of Friday's dismal trading session, where stocks logged their biggest drop in months following the rising tensions across Egypt.
World markets: Ongoing tensions, along with Moody's downgrade of Egypt, pressured world markets Monday.
"While there was no materially-negative news out of Egypt, clearly the situation hasn't calmed down much," said Michael James, senior equity trader at Wedbush Morgan Securities.
European stocks closed mixed with the U.K.'s FTSE 100 and Germany's DAX losing 0.3% and 0.4% respectively, and France's CAC 40 rising 0.1%.
Asian markets ended mixed. The Shanghai Composite gained 1.38%, but the Hang Seng in Hong Kong dropped 0.7% and Japan's Nikkei tumbled 1.2%.
The Egypt Index ETF (EGPT), a security that tries to track Egypt's stock market, jumped 7.9% after the ETF resumed trading midday Monday.
Companies: Technology shares were mixed after Intel (INTC, Fortune 500) said it discovered a manufacturing flaw in one of its chips that would cost the company $300 million in revenue this quarter.
Intel's stock was unchanged on the news, but shares of rival AMD (AMD, Fortune 500) shot up more than 4.5%.
Shares of Pall Corp. (PLL) rose 14% after the company's chairman and CEO announced plans for retirement late Friday.
Over the weekend, Massey Energy (MEE) was acquired by rival Alpha Natural Resources in a $7.1 billion deal. Shares of Massey jumped 9.4%.
Gannett (GCI, Fortune 500) shares dropped 3% after the media company missed revenue forecasts.
Economy: The Commerce Department reported personal spending slightly outpaced expectations last month, but personal income fell short of the forecast.
Personal income rose 0.4% in December, slightly below the 0.5% expected by economists. Personal spending rose 0.7% in December, slightly better than the 0.6% increase that had been forecast.
The Chicago purchasing managers' report on January manufacturing activity unexpectedly rose to a reading of 68.8. Economists had expected the index to fall slightly to a reading of 65.
The most closely watched report of the week comes Friday, when the government releases its January jobs data.
"If we get positive news there, the market could react strongly if it shows that the stimulus is working and there has been a further recovery in the U.S. economy," Tom Winmill, portfolio manager at Midas Funds..
Currencies and commodities: The dollar fell against the euro, the British pound and the Japanese yen.
Gold futures for April delivery fell $7.20 to $1,334.50 a troy ounce.
Bonds: The price on the benchmark 10-year U.S. Treasury fell, pushing the yield up to 3.35% from 3.33% late Friday.