Government shutdown? Wall Street isn't worried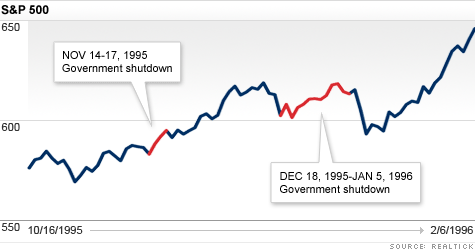 NEW YORK (CNNMoney) -- The looming threat of a government shutdown isn't causing investors to panic.
During the previous two times the government pulled the plug -- five days in November 1995 and another 21 days in January 1996, both during the Clinton administration -- the Dow (INDU) and the S&P 500 (SPX) moved higher. In fact, the market continued its bull run until the dot-com crash in early 2000.
"We remember the 1995 experience," said Brian Gendreau, market strategist at Financial Network Investment Corp. "The Clinton administration ended up making compromises, and the shutdown didn't last long. Investors don't expect anything different this year if it comes to that."
This time around, Democrats and Republicans have hit political gridlock on a spending bill that would cover the rest of fiscal year 2011. If the lights go out in Washington, Wall Street says it will be business as usual.
"Most investors view all of this as a natural course of the political process, so I don't see it having a very impact at all," said Drew Kanaly, CEO of Kanaly Trust, a wealth management firm in Houston.
Investors aren't even worried about the $14.294 trillion debt limit, which Congress will undoubtedly need to raise as early as April. That's because lawmakers have already raised the debt ceiling 12 times since 1995.
"That markets know that the United States will pay its bills, which is why all of this is a charade," said David Kotok, chief investment officer at Cumberland Advisors. "If the market actually ever doubts the country's ability to pay, all hell will break loose in the financial world. The shock of a U.S. default would be worse than the aftermath of Lehman Brothers and AIG."
Reality check: the real fears
As the political drama plays out in Washington, investors are focused on the political turmoil sweeping across the Arab world, and the corresponding rise in oil prices.
Last week, oil prices surged 9%, climbing as high as $103 a barrel on Thursday.
Mounting oil prices have pushed the gas prices to the highest level since October 2008, and analysts expect prices to continue higher.
That sharp rise in oil and gas prices spooked investors, and stocks tumbled about 2% last week, posting their worst losses since November.
"Not surprisingly, the real concerns are still centered on everything going on in the Middle East and North Africa," said Sam Stovall, chief investment strategist at Standard & Poor's. "We could see more uprisings and higher oil prices, which are a burden on consumer and could derail the fragile economic recovery."