Stocks head for slight rebound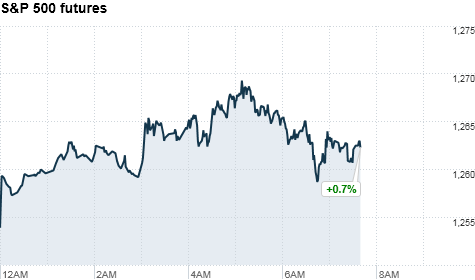 NEW YORK (CNNMoney) -- U.S. stocks were headed for a modest recovery Thursday, after two days of heavy selling, as investors gear up for several U.S. economic reports while keeping a close eye on Japan.
Dow Jones industrial average (INDU), S&P 500 (SPX) and Nasdaq (COMP) futures were higher ahead of the opening bell. Futures measure current index values against perceived future performance.
U.S. stocks posted steep losses Wednesday, with all three major indexes hitting their lowest levels of the year. It was an emotional sell-off, sparked by comments made by EU energy commissioner Günther Oettinger, who said that Japan's nuclear plants could be in for "possible catastrophic events."
"Yesterday, when we saw just the EU make a statement that the situation was out of control, it triggered a flash crash in several markets," said Phil Streible, senior market strategist with futures broker Lind-Waldock. "Japan is a very sensitive situation and it has caused us to shift our focus from the economic data."
Japan has been aggressively working to avert a meltdown at the Fukushima Daiichi nuclear power plant, following last week's devastating earthquake and tsunami. (CNN.com's Japan coverage)
A number of key U.S. economic reports are due out on Thursday, including the latest monthly reading of the government's main inflation gauge, weekly jobless claims and a regional manufacturing report.
But Streible thinks the stock market's response will be muted.
"Initial claims is going to be a completely non-event, and everyone is expecting the inflation data will show price increases," he said. "It's almost a no brainer."
World markets: Asian markets closed lower, with the Nikkei in Japan (NKY) falling 1.4%, the Shanghai Composite sliding 1.1%, and the Hang Seng in Hong Kong losing 1.8%.
But stocks in London, Frankfurt and Paris gained in morning trading, after the French Finance Minister called a Group of Seven conference call to discuss ways to support Japan. The U.S. dollar hit an all-time low against the yen on Wednesay.
The G7 call, which includes finance and central banking leaders from the United States, Japan, United Kingdom, France, Canada, Italy and Germany -- is scheduled for later Thursday.
Lagarde told reporters that the group will discuss buying Japanese bonds as one possible way to shore up the world's third-largest economy.

"It may be all talk and no action, but the market is hoping there will be a coordinated attempt to restore confidence," said Ken Wattret, economist with BNP Paribas in London. "The hope is for some coordinated policy action, either on the fiscal, monetary or foreign exchange front."
Britain's FTSE 100 rose 1%, the DAX in Germany gained 1.3% and France's CAC 40 added 1% in morning trading.
Economy: The outlook for inflation will be in focus before the market opens, when the government releases its Consumer Price Index for February.
Economists expect the CPI to show prices rose 0.4% in the month, after rising the same amount in January, according to consensus estimates from Briefing.com.
Excluding volatile food and energy prices, the core CPI is expected to show prices ticked up 0.1% in February, following a 0.2% increase the month before.
On Wednesday, the government said inflation at the wholesale level jumped 1.6% in February, the biggest jump in nearly two years. The Producer Price Index was driven higher by a 3.9% jump in wholesale food prices and 3.3% rise in energy prices.
The government's weekly report on first-time claims for unemployment benefits is expected to come in at 386,000, down 11,000 from the week before.
After the market opens, government data on industrial production and capacity utilization in February is on tap. A business research group also releases its index of leading economic indicators, and the Federal Reserve bank of Philadelphia will release a report on manufacturing activity in its district.
Companies: Shares of FedEx (FDX, Fortune 500) rose 4% in pre-market trading after the shipping giant issued an earnings forecast that topped analysts' forecasts and said it still expected moderate economic growth this year. FedEx is viewed as an economic bellwether because of its size and global presence.
After the market closes, athletic footwear and apparel maker Nike (NKE, Fortune 500) will post results.
Currencies and commodities: The disaster in Japan has driven the yen sharply higher against the U.S. dollar on demand for safe-haven assets and speculation that more cash will flow back into the country as it rebuilds. The dollar hit an all-time low versus the yen on Thursday.
Meanwhile, the dollar also fell against the euro and the British pound.
Oil for April delivery gained $2 to $99.99 a barrel.
Gold futures for April delivery rose $7.20 to $1,403.30 an ounce.
Bonds: The price on the benchmark 10-year U.S. Treasury fell, pushing the yield up to 3.21%.