Stocks poised for gains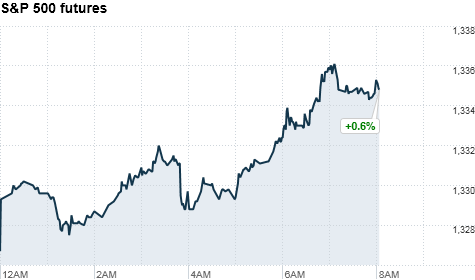 NEW YORK (CNNMoney) -- U.S. stock futures pointed to a higher open and gold prices rose as some investors shrugged off inflationary fears, while others seemingly embraced them.
Dow Jones industrial average (INDU), S&P 500 (SPX) and Nasdaq (COMP) futures were all more than 0.5% higher ahead of the opening bell. Futures measure current index values against perceived future performance.
Some investors are shrugging off minutes from the Federal Reserve released Tuesday, which showed central bank officials in sharp disaggreement about rising prices. A rally in stock prices faded soon after the release, with all three major indexes ending the day near breakeven.
"I thought that would have carried through to today, but it didn't," said Mark Lushini, managing director at Janney Montgomery Scott. "I keep calling it a Teflon market, because bad news doesn't want to stick to it."
Meanwhile, gold prices are rallying as other investors believe inflation will become an issue sooner than later.
In an attempt to combat inflation, the Bank of China raised interest rates for the fourth time in six months early Tuesday.
Also, investors are practically counting on the European Central Bank to raise interest rates on Thursday morning. Because it's seen as a hedge against inflation, gold often rallies when investors fear prices may take off.
Gold futures for June delivery breached a new intraday trading record of $1,462.10 an ounce. Silver broke a 31-year high of $39.71 an ounce earlier in the morning.
Companies: Dish Network (DISH, Fortune 500) announced Wednesday that it won ownership of Blockbuster for $320 million in a bankruptcy court auction. Blockbuster put itself up for sale in February, after the movie rental chain filed for bankruptcy last fall.
Ranked in the last spot on the Fortune 500 list last year, Blockbuster shares now trade on the pink sheets -- at less than 8 cents a piece.
Monsanto (MON, Fortune 500) shares were little changed in pre-market trading, after the agricultural product giant reported quarterly earnings of $1.87 a share, slightly higher than analysts were expecting.
After the bell, investors get results from home furnishings retailer Bed Bath & Beyond (BBBY, Fortune 500), which is expected to earn 97 cents a share.
Economy: No major economic reports are on the agenda for Wednesday, but investors will continue to keep an eye on budget negotiations in Congress and political turmoil in the Middle East and North Africa.
Congress risks a federal government shutdown if it fails to approve a spending bill by Friday.
Meanwhile, market strategists polled by CNNMoney name escalating political turmoil in the Middle East and North Africa, and its impact on oil prices, as the biggest threat to the market over the long term.
World markets: European stocks were mixed in morning trading. Britain's FTSE 100 rose 0.3%, the DAX in Germany was flat and France's CAC 40 fell 0.4%.
Asian markets ended the session mixed. The Shanghai Composite gained 1.1% and the Hang Seng in Hong Kong added 0.6%, after reopening after a holiday. Japan's Nikkei fell 0.3%.
Currencies and commodities: The dollar fell against the euro and the British pound, but rose against the Japanese yen.
Oil for May delivery gained 17 cents to $108.51 a barrel. Investors will watch for the latest data on U.S. oil stockpiles due at 10:30 a.m. ET.
Bonds: The price on the benchmark 10-year U.S. Treasury rose, pushing the yield down to 3.48% from 3.49% late Tuesday.