China's economy slows, as inflation remains feverish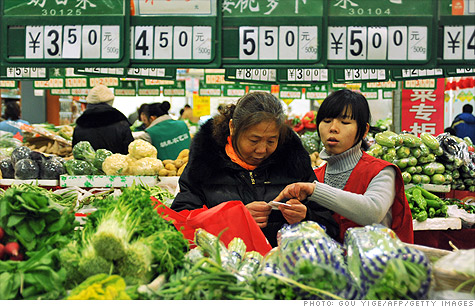 NEW YORK (CNNMoney) -- China's economy grew at a slightly slower rate in the first quarter, as food prices continued to surge and limit the purchasing power of consumers.
China's economy grew at an annual pace of 9.7% from a year earlier in the first three months of the year, the National Bureau of Statistics said Friday.
While that feverish speed far outpaces growth in advanced nations such as the United States, it marks a slight slowdown from the 9.8% growth rate seen in the prior quarter.
China is the world's second largest economy after the United States, but is considered an emerging economy because of its rapid growth and industrialization. Staggering growth of around 10% has been common in China over the last 30 years.
Lately, China's government has tried to slow down the economy and tame rapidly rising prices that have accompanied growth. But it has done so very gradually, in an effort to avoid a crash landing.
Chinese Premier Wen Jiabao has repeatedly said controlling inflation is a top priority, but prices have continued to surge as commodities rally in global markets.
"Judging from the inflation situation in the first quarter, we are still under great pressure of price hikes," Wen said Wednesday, according to the government's official press agency Xinhua. "We should never lower our guard."
Prices barreled ahead at a 5% rate in the first quarter, according to the latest government data released Friday. Food accounted for most of the increase, rising 11% over the period.
Prices rose 4.9% in cities and 5.5% in rural areas. Housing prices overall were up 6.5%.
Last week, the government hiked interest rates for the fourth time in six months, in a continuing effort to tighten the country's money supply.
The government has also raised minimum down payments for second-home purchases and introduced higher property taxes in two of the country's largest cities, in an attempt to slow staggering growth in China's runaway property market.
Despite those efforts, new loans and the money supply still grew slightly more than analysts had expected in March -- implying that the Chinese government may have to continue its efforts to limit rising prices.
"Inflation, not growth, continues to be China's top macro risk in Chinese policymakers' eyes -- a fact that calls for the continuation of tightening efforts," Qu Hongbin, HSBC co-head of Asian economics research said in a note to investors.
Rapid price increases in China have recently spilled over into the U.S. According to U.S. trade data for February, 20% of America's imported goods came from China, and prices on those goods were up 2.6% from a year ago.
That marked the highest increase in Chinese import prices since December 2008.
--CNN's Helena Hong in Beijing contributed to this report.