Stocks climb to 3-year highs on earnings boost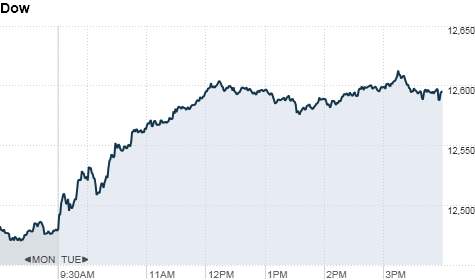 NEW YORK (CNNMoney) -- U.S. stocks finished at their highest levels in three years Tuesday afternoon, as investors cheered another batch of earnings results and a better-than-expected report on consumer confidence.
The Dow Jones industrial average (INDU) gained 115 points, or 0.9%, the S&P 500 (SPX) rose 12 points, or 0.9%, and the Nasdaq Composite (COMP) added 22 points, or 0.8%. Both the Dow and the S&P climbed to their highest levels since June 2008, while the tech-heavy Nasdaq closed at its highest mark since October 2007.
"Corporate earnings have been strong and are a good sign of global growth," said Dave Rovelli, managing director of U.S. equity trading at Cancaccord Adams.
So far, a third of the S&P 500 companies have opened their books, and 75% of them have beat expectations, according to Thomson Reuters. Earning are up almost 19%, while sales have climbed nearly 3%.
Rovelli said upbeat results from shipping company UPS (UPS, Fortune 500) are particularly compelling given the company's reach into the global economy. Shares of UPS rose 0.9% Tuesday after the company posted a 66% rise in profit and raised its full-year earnings outlook.
The busy week in earnings news also brought the strongest first quarter in 13 years from Ford Motor (F, Fortune 500), pushing the automakers's shares up 0.8%.
3M (MMM, Fortune 500) was among the Dow's leaders, with its shares up almost 2% after the company reported better-than-expected earnings. Cummins (CMI, Fortune 500) helped lead the S&P 500 with a 7.6% rise after the engine maker surprised investors by doubling its profit.
Delta (DAL, Fortune 500)'s stock advanced 11% after the airline announced a narrower loss that analysts were expecting, and also beat sales estimates.
IBM (IBM, Fortune 500), which reported a better-than-expected first-quarter last week, announced a 15% quarterly dividend increase and said it would buy back more of its shares.
But it wasn't all good news from Corporate America. Lexmark International (LXK) shares fell 14.5%, making it the worst performing company in the S&P 500, and Coca-Cola (KO, Fortune 500) shares lost 1.2% to make it one of the biggest losers on the Dow. Both reported disappointing earnings.
Netflix (NFLX) shares tumbled more than 9%, a day after the company reported solid earnings but issued an outlook that fell short of forecasts. The online movie rental company posted the worst losses in the Nasdaq composite.
After the closing bell Tuesday, Amazon.com (AMZN, Fortune 500)'s stock fell almost 6% in after-hours trade after the Seattle-based company reported first-quarter earnings that fell by one-third over the year -- and sharply missed Wall Street forecasts.
U.S. stocks ended mixed on Monday, helped by a modest boost in technology shares.
Economy: The Conference Board's consumer confidence index for April rose more than expected to 65.4 from 63.8 the prior month. Economists were expecting the sentiment index to come in at 64.4.
Investors largely shrugged off another dour reading on the housing market. The latest S&P/Case-Shiller home price index showed that eight straight months of declines have now put home prices near post-crisis lows reached in 2009.
"The market is scrapping the housing data," Rovelli said. "Everyone know the housing market is a disaster and it's not getting better anytime soon."
Meanwhile, this week also brings Wednesday's Federal Reserve press conference and Thursday's report on U.S. economic growth.
"There's some anxiety about Bernanke's press conference tomorrow and the GDP numbers on Thursday," said Scott Brown, chief economist at Raymond James. "Towards the end of the day you may see a little bit of nervousness in markets."
World markets: European stocks closed higher. Britain's FTSE 100 rose 0.9%, the DAX in Germany added 0.8% and France's CAC 40 advanced about 0.6%.
Asian markets ended the session lower. The Shanghai Composite lost 0.9%, the Hang Seng in Hong Kong dipped 0.5% and Japan's Nikkei fell 1.2%.
Currencies and commodities: The dollar fell against the euro and the Japanese yen, but rose versus the British pound.
Oil for June delivery slipped 7 cents to settle at $112.21 a barrel.
Gold futures for June delivery fell $5.60 to finish at $1,503.50 an ounce. Silver prices pulled back sharply to settle at $45.05 an ounce, one day after prices came within spitting distance of the key $50-an-ounce level.
Bonds: The price on the benchmark 10-year U.S. Treasury rose, pushing the yield down to 3.32% from 3.36% late Monday.