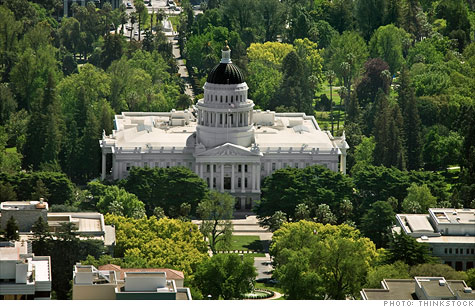 California lawmakers will stop receiving their pay if they don't pass a balanced budget by June 15.
NEW YORK (CNNMoney) -- California lawmakers can kiss their pay goodbye if they don't pass a balanced budget by June 15.
State Controller John Chiang said Thursday he would permanently withhold lawmakers' pay and per diem starting June 16 if they do not pass a balanced budget. He said he was carrying out the wishes of voters, who last year authorized docking legislators' pay if they did not agree to a spending plan by the mid-June deadline.
"In passing Proposition 25 last November, voters clearly stated they expect their representatives to make the difficult decisions needed to resolve any budget shortfalls by the mandatory deadline, or be penalized," Chiang said.
Budget talks are at a virtual standstill in Sacramento. That's because Governor Jerry Brown is not backing down from his belief that the state's budget shortfall should be closed with a mix of tax increases and spending cuts.
Republican legislators, however, do not support the governor's plan to extend 2009 rate hikes on sales and personal income taxes without concessions, including pension and regulatory reform and a spending cap.
The budget gap now stands at $10.8 billion. Lawmakers passed several measures in March that closed $14 billion of the deficit, while improving tax revenues helped further narrow it.
Last month, Brown unveiled a revised budget that called for a $9.3 billion tax extension, coupled with a $2.6 billion cut in spending.
Lawmakers on both sides of the aisle said they support the controller's ruling. Last year, legislators took a record amount of time to pass the budget, which wasn't finalized until October.
"The deadline is June 15 and that's what we're shooting for," said Mark Hedlund, spokesman for Darrell Steinberg, president pro tempore of the Senate.