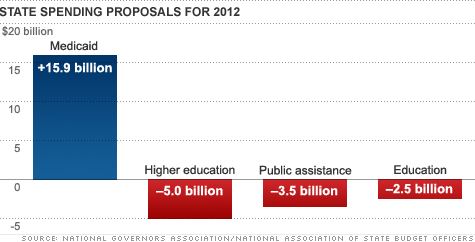 NEW YORK (CNNMoney) -- States are gearing up to spend nearly 19% more of their money on Medicaid as enrollment rises and federal stimulus funds dry up.
Governors have proposed spending $15.9 billion more on Medicaid in fiscal 2012, according to a survey released Thursday by the National Governors Association and the National Association of State Budget Officers.
The record spending on Medicaid is forcing governors to recommend slashing expenditures on higher education by $5 billion, on public assistance by $3.5 billion and on K-12 education by $2.5 billion.
State officials have been wrestling with rising Medicaid costs since the Great Recession began driving more people to the government assistance program. Enrollment is projected to rise 3.8% in fiscal 2012, which would represent a 17.3% increase over a three-year period.
Since early 2009, federal stimulus money has helped states cope with the steep downturn in tax revenue. Overall, states used $135 billion in stimulus support to help cover Medicaid, education and other costs.
But that funding is now ending, leaving states to shoulder their Medicaid burden alone. This is forcing states to cut provider payments, limit spending on prescription drugs and reduce benefits since the federal government is not allowing them to kick participants out of the program.
The disappearance of federal support is wreaking havoc on state budgets, contributing to a collective $75.1 billion in shortfalls for the coming fiscal year, which starts July 1 in most states.
Still, the news isn't all bleak. Many states are seeing an uptick in their tax revenues, thanks in part to the improving national economy and stock market. Governors are projecting that tax collections will rise 2.1% to $655.6 billion in fiscal 2012, according to the survey. But that's still $24.6 billion below their fiscal 2008 levels.
The rising tax revenue is allowing governors to propose increases to their budgets for a second year in a row, after slashing spending in fiscal 2009 and 2010. They recommend upping expenditures by 2.6% this coming year.
However, many challenges remain.
"The revenue coming in is not sufficient to cover all the bills," said Scott Pattison, executive director of the budget officers' group.
The jump in revenue did not stop 23 states from enacting mid-year budget cuts totaling $7.8 billion and mid-year tax hikes of $3.6 billion. Governors have also proposed $13.8 billion in new taxes and fees for the coming year, though the bulk of that increase comes from Minnesota, California and Connecticut.