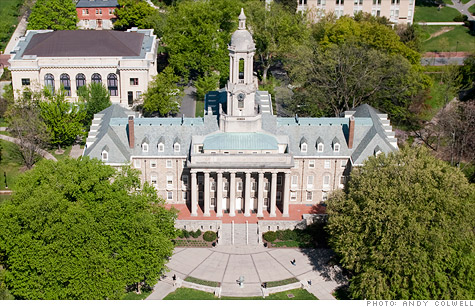 Some lawmakers want to use Pennsylvania's projected $500 million surplus to restore some funding for higher education.
NEW YORK (CNNMoney) -- State budgets have taken a beating since the recession began. But guess what their latest problem is? Too much money.
States are enjoying an unexpected surge in tax revenue, primarily from personal income taxes.
The windfall is setting off new rounds of budget battles between state lawmakers and governors, who not long ago were slashing and burning their programs and services.
Some officials want to use the extra funds to soften the draconian budget cuts, funneling more money to schools, colleges and social services. But others are standing firm, saying they must curb their spending because the increased tax revenue might not last.
Tax revenues rose by 9.1% in the first quarter, according to the Rockefeller Institute of Government. Tax collections have been increasing for five straight quarters, following five quarters of declines.
But states are not out of the woods. Revenues were still 3.1% lower in early 2011 than in the same period three years ago.
More money, more problems
Only a few months ago, Pennsylvania officials were projecting a $4.2 billion deficit in the state budget for the coming fiscal year, which starts July 1. Now, the state's fiscal picture is a bit brighter since it is expected to close out the current year with a $500 million surplus thanks to higher-than-expected tax revenues.
Governor Tom Corbett, a Republican who took office in January, is sticking to his pledge to cut spending. His proposed budget of $27.3 billion reduces spending by 3%, but imposes some harsh reductions, particularly to higher education. Still, he feels any newfound revenue should be saved.
"If there is additional money, we should set it aside for next year's budget and other challenges we are looking at," said Kevin Harley, the governor's press secretary.
Corbett has allies in the Pennsylvania House. Republican leaders there recently restored some money to higher education, but kept the overall budget at $27.3 billion.
Lawmakers in the Senate, however, think some of the money should be spent to soften the blow of the cuts. One of their priorities is higher education, which would suffer reductions of between 15% and 25% under the House budget.
"Some portion of the surplus can be used to reduce the impact of those cuts in a fiscally responsible way," said Erik Arneson, spokesman for Majority Leader Dominic Pileggi.
Across the river, in New Jersey, tax revenues are coming in between $500 million and $900 million higher than expected.
Municipalities are pressuring lawmakers to use part of these newfound riches to send more money their way. They say Governor Chris Christie has used funds that should go to them to plug the state's budget deficit.
This is forcing municipalities to either raise property taxes or cut services, such as public safety and trash collection.
"Now is the time property taxpayers need more relief, not less," said William Dressel, Jr., executive director of the New Jersey State League of Municipalities.
Mayors, however, have a lot of competition for the money. The New Jersey Supreme Court last week ruled that the state will have to funnel $500 million more to poorer school districts.
Christie's spokesman declined to comment, citing "a lot of moving parts at this time."
Meanwhile, in Oregon, lawmakers and the governor have agreed that the $129 million in unexpected revenue will go to shore up the human services and public safety divisions. Both of these were slashed in an effort to plug a $3.5 billion budget deficit earlier this year.
The additional tax collections will restore funds for in-home care for seniors, which would have had to reduce visits from five days a week to two or three. Also, juvenile delinquency programs that were set to be slashed will be revived, as will drug treatment efforts run by the Department of Corrections.
"When you poll Oregonians, they want services," said Rep. Peter Buckley, Democratic co-chair of the House Ways & Means Committee. "It was a very easy decision for us to say we're going to provide those services."