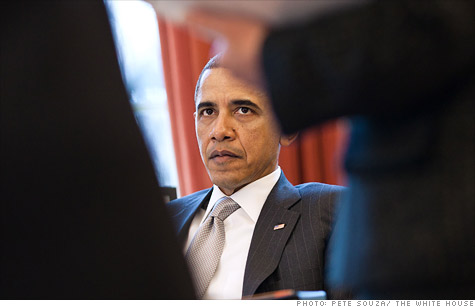 The White House downplayed weaker number, calls them a "bump" in the road.
WASHINGTON (CNNMoney) -- Washington was abuzz Friday about political implications of the dour May jobs report, with Democrats and Republicans blaming each other for continued lack of progress.
The Labor Department said 54,000 jobs were created in the economy last month -- a figure that was far less than economists forecast and slower than recent months. The unemployment rate edged up to 9.1% from 9% in April.
With each passing month of continued high unemployment, the stakes grow for President Obama's re-election bid. The recent spate of cutbacks in hiring could make things more difficult for the president -- who lately has been enjoying increased popularity in large part because of last month's raid resulting in Osama bin Laden's death.
On Friday morning, the White House put a happy face on the jobs figures, with White House chief economist Austan Goolsbee, calling them "bumps" in the road.
"There are always bumps on the road to recovery, but the overall trajectory of the economy has improved dramatically over the past two years," Goolsbee said in a statement released on the White House blog. "This report is a reminder of the challenges that remain."
But Republicans wasted little time attacking the report -- in fact, House GOP leaders prepared Thursday for a post-report news conference.
"It's clear from this morning's jobs report is that the economy is still not creating enough jobs," said House Speaker John Boehner at the news conference. "We cannot solve our debt crisis without economic growth -- and we will not have economic growth if we raise taxes on job creators and refuse to stop spending money we don't have."
Democratic Senate Majority Leader Harry Reid issued a statement accusing Republicans of ignoring employment issues with their slashing and cutting mantra.
"Republicans have been distracted, choosing instead to focus on their plan to end Medicare in order to pay for more tax breaks for millionaires," Reid said. "It is time for Republicans to stop trying to force their plan to end Medicare on the American people, and work with Democrats to create jobs."
Even presidential hopefuls tried to get into the mix. GOP-hopeful Mitt Romney released a statement saying "Obama has failed."
"Today's unemployment numbers show that we are going backwards, and that is the wrong direction for America," the former Massachusetts governor said in a statement. "President Obama's policies made the recession worse and as a result more people are out of work."