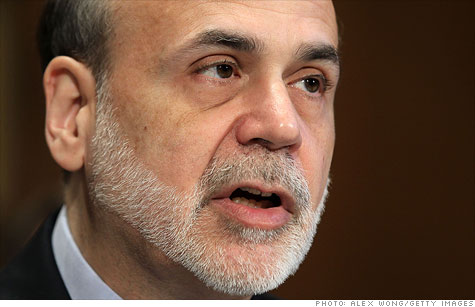 NEW YORK (CNNMoney) -- The economy lost some momentum recently, Ben Bernanke acknowledged Tuesday, but the Federal Reserve chairman is still optimistic that the recovery will pick up again in the second half of the year.
In a speech on Tuesday, Bernanke twice called the job market "far from normal" and conceded, "the economy is still producing at levels well below its potential."
But he also said the factors behind recent weakness are likely to fade in coming months.
The economy is still feeling the lingering effects of Japan's earthquake and tsunami, he said. And surging oil prices -- which he blames on stronger demand from emerging markets -- are likely to stabilize.
"With the effects of the Japanese disaster on manufacturing output likely to dissipate in coming months, and with some moderation in gasoline prices in prospect, growth seems likely to pick up somewhat in the second half of the year," he said at the International Monetary Conference in Atlanta, Ga. Tuesday.
Bernanke also called on lawmakers to address the national deficit with a long-term outlook, but cautioned Congress against making any drastic cuts that could derail the economic recovery.
Sharp cuts could be "self-defeating" he said, if they were to "undercut the still-fragile recovery."
"Consequently, the appropriate response is to move quickly to enact a credible, long-term plan for fiscal consolidation," he said.
In a Q&A session following the speech, JPMorgan Chase (JPM, Fortune 500) CEO Jamie Dimon chimed in, giving Bernanke a laundry list of banking reforms enacted since the crisis.
"Most of the bad actors are gone," he said. "Money market funds are more transparent," and "mortgage underwriting is back to where it was 30 years ago."
But he then turned the monologue around, asking the Fed Chairman if those reforms may actually be part of the reason credit and jobs are slow to come back.
In short, Bernanke said "no."
"Has anybody done a comprehensive analysis of the impact on -- on credit? I can't pretend that anybody really has," Bernanke said. "You know, it's -- it's just too complicated. We don't really have the quantitative tools to do that."
Bernanke's speech follows a recent onslaught of weaker-than-expected economic reports, including a disappointing jobs report on Friday.
Later this month, the Federal Reserve is expected to wind down its $600 billion stimulus program known as quantitative easing, or QE2 because it's the second round of such purchases.
Bernanke left the door open for more accommodative monetary policy, saying interest rates are likely to remain "exceptionally low" for an extended period. While he gave no hints of further easing, he did not dismiss the idea either.
He also said that should his inflation predictions be wrong, the Fed "would respond as necessary."
Stocks erased the day's gains, as Bernanke spoke. The Dow fell 19 points, after being up 70 points earlier in the trading session.