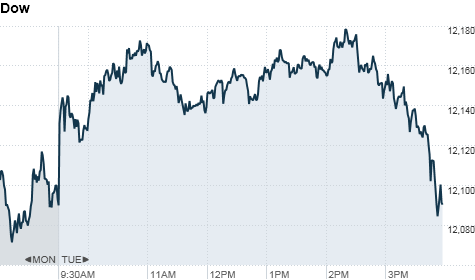 Click the chart for more market data.
NEW YORK (CNNMoney) -- U.S. stocks closed lower Tuesday after comments from Federal Reserve chairman Ben Bernanke dashed hopes that the central bank could provide additional economic stimulus.
The Dow Jones industrial average (INDU) fell 19 points, or 0.1%, to 12,070. The Dow had been up by 70 points earlier in the session. The S&P 500 (SPX) eased 1 point to settle at 1,285. The Nasdaq (COMP) lost 1 point to 2,701.
Speaking in Atlanta, Bernanke acknowledged that economic growth this year has been slower than expected. But he said growth should pick up in the second half of the year if gas prices "moderate" and supply disruptions stemming from the disaster in Japan fade.
Bernanke twice called the job market "far from normal" and conceded, "the economy is still producing at levels well below its potential."
Despite the challenges facing the economy, Bernanke reiterated that the central bank's $600 billion stimulus will run out later this month.
However, the chairman left the door open for more accommodative monetary policy, saying interest rates are likely to remain "exceptionally low" for an extended period, and did not dismiss the idea of further easing. Bernanke also said that should his inflation predictions be wrong, the Fed "would respond as necessary."
"Overall, the economic recovery appears to be continuing at a moderate pace, albeit at a rate that is both uneven across sectors and frustratingly slow from the perspective of millions of unemployed and underemployed workers," Bernanke said.
Ryan Larson, a senior equity trader at RBC Global Asset Management , said Bernanke did not reveal anything new, but his comments confirmed worries in the market about weakness in the economy.
"It appears that growth is moderating, and that was confirmed by the chairman today," he said.
There had been "some chatter" in the market about a third round of stimulus from the Fed, Larson added. "But we didn't see that in the language."
Bernanke made his remarks about 15 minutes before the closing bell, so investors did not have much time to react. But given the recent weakness in the market and the lack of economic data on the agenda this week, traders said the selling could carry over into Tuesday's session.
Stocks had been supported earlier Monday by reports of corporate dealmaking. But the tone has been cautious recently amid signs of weakness in the job market, housing and manufacturing activity.
Stocks fell Monday as investors weighed losses in the financial sector with recent downbeat economic data.
Economy: The Federal Reserve said consumer credit rose by $6.3 billion in April, after a $4.8 billion rise the month before.
Analysts polled by Briefing.com had expected an increase of $6 billion.
Late Monday, President Obama's top economic adviser Austan Goolsbee announced he is leaving the the administration to return to teaching.
Companies: Ford Motor (F, Fortune 500) plans to boost worldwide production 50% by mid-decade, to 8 million vehicles a year.
Ford plans to ramp up production on small vehicles and focus on emerging markets. Shares of the automaker rose about 1%.
Shares of International Paper (IP, Fortune 500) edged up after the company offered to buy Temple-Inland (TIN) for $3.38 billion in cash late Monday. Temple-Inland's board rejected the offer; its stock soared 42%.
The offer helped lift shares of other paper companies, including Weyerhaeuser (WY, Fortune 500).
Shares of Regions Financial (RF, Fortune 500) rose slightly following an announcement that its banking unit will buy a $1 billion credit card portfolio from FIA Service.
Tiffany & Co. (TIF) rose nearly 1% amid speculation that the owner of rival jewler Cartier is interested in buying the company.
Currencies and commodities: The dollar fell against the euro, the British pound and the Japanese yen.
Oil for July delivery rose 9 cents to settle at $99.09 a barrel.
Gold futures for August delivery gained 20 cents to settle at $1,544.20 an ounce.
Bonds: The price on the benchmark 10-year U.S. Treasury slipped, pushing the yield up to 3.01% from 3.01% late Monday.
World markets: European stocks finished with gains. Britain's FTSE 100 inched up 0.3%, the DAX in Germany jumped 0.6% and France's CAC 40 added 0.4%.
Asian markets ended mixed. The Shanghai Composite jumped 0.6% and Japan's Nikkei rose 0.7%, while the Hang Seng in Hong Kong fell 0.4%.