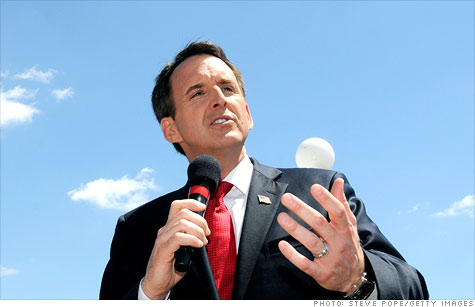 Tim Pawlenty has a plan to cut spending. You can Google it.
NEW YORK (CNNMoney) -- Republican presidential hopeful Tim Pawlenty laid out an economic vision for America on Tuesday that would cut taxes and dramatically reduce the size and scope of government operations.
Among his more novel ideas: If you can find it on Google, the government shouldn't be doing it.
"We can start by applying what I call 'The Google Test.' If you can find a good or service on the Internet, then the federal government probably doesn't need to be doing it," Pawlenty said.
Among the services he would cut: Amtrak, the U.S. Postal Service, Fannie Mae and Freddie Mac and the Government Printing Office.
Pawlenty said those organizations "were all built for a time in our country when the private sector did not adequately provide those products. That's no longer the case."
Interpreted broadly, the test could spell the end of federal involvement in the storage of nuclear waste, environmental clean-up efforts and disaster relief -- all services that a Google search reveals are offered by private sector firms.
"I guess it's an interesting strategy," said Craig Jennings, director of federal fiscal policy at OMB Watch, a budget watchdog group. "You could probably find private investigators, so let's get rid of the FBI, and there are labs that do food inspections, so let's eliminate federal food inspectors."
In addition, the Minnesota Republican has broader plans for curtailing government spending. As president, he would ask Congress to grant him emergency authority to freeze spending at current levels, and then impound up to 5% of federal spending until the budget is balanced.
"The implausible thing is cutting spending that dramatically from today's levels," said Rudolph Penner, a former Congressional Budget Office director who is now a fellow at the Urban Institute. And Pawlenty would be hard pressed to carry through, Penner said, because his pledge would require drastic cuts to health care and Social Security.
At the same time, he would take a meat cleaver to the tax code. Taxes on capital gains, interest income, dividends and estates would all be eliminated.
Individuals would pay a 10% tax rate on their first $50,000 in income and 25% on all additional earnings. Currently, income earned in excess of $373,000 is taxed at a 35% rate. That's the top bracket.
He also proposed reducing the current corporate tax rate to 15% from 35%, while eliminating loopholes in the tax code carved out by special interests.
So how does Pawlenty plan to cut taxes by so much and still reduce the deficit? In addition to spending cuts, he is planning on blockbuster economic growth.
"Let's start with a big, positive goal," he said. "Let's grow the economy by 5%, instead of the anemic 2% envisioned currently."
That would bring in tons of additional tax revenue, and help close the deficit. But is sustained GDP growth of 5% really in the cards?
The last time the U.S. economy enjoyed even two consecutive years of 5% growth was 1973 and 1974.
"It seems that Pawlenty's economic plan is falling right in line with other Republicans in the field," Jennings said. "Cut taxes, cut spending and then hope for unrealistic economic growth."
Major changes would also hit government regulations -- as in, they would all be taken off the books unless Congress intervenes.
"I will require sunsetting of all federal regulations, unless specifically sustained by a vote of Congress," Pawlenty said. Two major Obama administration legislative victories -- health care and Wall Street reform -- would be specifically targeted.