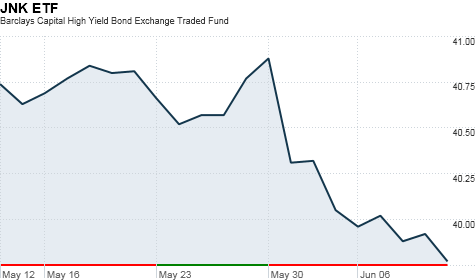 Click the chart for more market data.
NEW YORK (CNNMoney) -- The market for risky junk bonds has lost some steam, right along with the economic recovery.
Investors had been flocking to corporate "junk" bonds since the early months of 2009 amid a broad flight to risky assets because of the high yields that come along with that risk. But demand for those bonds has tapered off in the last few weeks following a spate of lousy economic news.
"There's a lot of uncertainty in market," said Jody Lurie, corporate credit analyst at Janney Capital Markets. "We've had a lot of bad news in the last few weeks and that's making people hesitant."
In addition to the darkening economic outlook, traders said the market has been slipping under the weight of heavy supply.
There's been an influx of companies this year looking to refinance existing bonds at more attractive rates. Companies issued a record $153 billion worth of junk bonds through June 10, a 35% increase over the same period last year, according to Standard & Poor's Leveraged Commentary & Data.
Meanwhile, the Federal Reserve Bank of New York has been selling billions of dollars worth of mortgage-backed securities from a portfolio the bank inherited from AIG (AIG, Fortune 500). Traders said that influx of paper has weighed on the high yield market.
Despite those headwinds, high-yield bonds offer relatively good value compared with other fixed-income assets, said William Larkin, a bond portfolio manager at Cabot Money Management.
But he cautioned that prices are still at historically high levels, and investors could be in trouble if inflation picks up.
"This market is extremely expensive," he said. "I'm afraid that we could get some hot inflation data on top of the prices," he added. And that could leave bondholders with a negative return.
But some analysts say the risks are minimal.
Gary Russell, a high yield bond expert at Deutsche Bank's DWS Investments, said junk bonds have been yielding over 7% recently.
That compares a yield of less than 3% on the benchmark 10-year Treasury note.
Russell said he expects corporate default rates to remain low over the next six months. He added that companies have been issuing longer-term bonds, which are generally less volatile, and that corporate results have been better than expected.
"There is some downside form the macro picture being priced in," he said. "But even in this environment, we think high yield should still be ok."