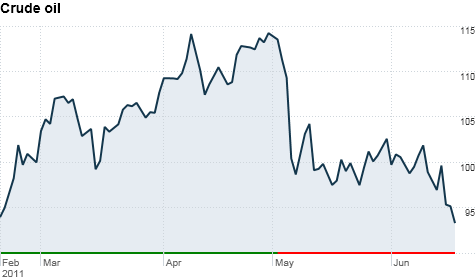 Click the chart for the current price of oil and other commodities.
NEW YORK (CNNMoney) -- Oil prices fell to a fresh four-month low Friday as jitters about Greece's debt crisis continued to weigh on investors.
In electronic trading, oil for July delivery fell nearly 3% to $92.12 a barrel, its lowest intra-day level since Feb. 22 -- before heading back up to $93.81 later in the morning.
Fears about Greece defaulting on its debt have kept investors on edge for more than a year, but they escalated this week after riots erupted in Athens in response to austerity measures.
In response, Greek Prime Minister George Papandreou reshuffled his cabinet Friday, and European finance ministers are scheduled to meet Sunday to discuss a possible bailout package.
Nevertheless, tensions remain high. Even Alan Greenspan, the former Federal Reserve chairman, has said a default by Greece is "almost certain" and could help drive the U.S. economy into recession.
The possibility of a Greek default rippling through the world economy has investors fearful about any kind of risk assets like stocks and oil.
"Personally, I'm going to recommend clients lighten up on both the S&P and oil today. That way we can take a more aggressive stance on Monday," said Phil Streible, senior market strategist with futures broker Lind-Waldock.
So far, oil has come off its morning lows after German Chancellor Angela Merkel and France's President Nicolas Sarkozy said they have agreed on a structure of a bailout package that would include voluntary support from private investors.
Next, they will seek the European Central Bank's approval of the deal.
On Thursday, the International Energy Agency forecast that demand for oil -- particularly from emerging markets like China -- is likely to exceed supply by 2016.