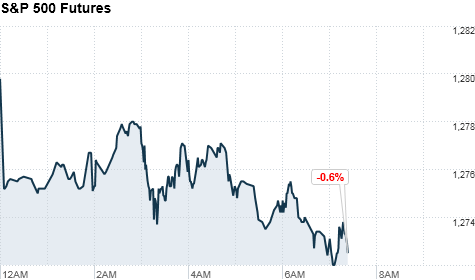 Click chart for more premarket action.
NEW YORK (CNNMoney) -- U.S. stocks were poised to extend declines from the previous session Thursday, as a weak report on unemployment claims and the Federal Reserve's gloomy comments about the economy weighed on investors.
Dow Jones industrial average (INDU), S&P 500 (SPX) and Nasdaq (COMP) futures were 0.8% lower ahead of the opening bell. Futures measure current index values against perceived future performance.
U.S. stocks fell Wednesday after the Fed issued a dour assessment of the economy but gave no indication that any additional stimulus measures are in the works.
In a widely expected move, the Fed held its benchmark interest rate near zero percent, saying the economic recovery has been weaker than expected.
In his post-statement press conference, Bernanke said temporary factors such as supply disruptions from the earthquake in Japan have played a part in the slowdown. But longer term, Bernanke said the Fed doesn't "have a precise read on why this slower pace of growth is persisting."
"That uncertainty, on top of the severe slowdown in the economy in such a short time, leaves investors more concerned than they might have otherwise been," said Bruce McCain, chief investment strategist at Key Private Bank. "It's like when you're sick and go to the doctor -- if the doctor is concerned, that makes you even more concerned."
And since Bernanke didn't outline any plans for additional aid to the economy if the slowdown doesn't stop, McCain said markets could be in for a rocky couple of months -- with the Fed's QE2 stimulus program ending June 30.
"Until we get into earnings season or something that provides more good news, it will be hard for investors to feel enthusiasm about buying stocks," he said.
Economy: A report on initial claims showed 429,000 Americans filed for their first week of unemployment benefits last week. That marked an increase of 9,000 new claims over the week before, and was far weaker than the 413,000 claims economists had expected.
Initial claims have now stayed above the 400,000 mark for 11 straight weeks, marking continued weakness in the job market.
Next, investors will watch for a report on May new home sales, expected from the Census Department at 10 a.m. ET.
Companies: Shares of Red Hat (RHT) added 5% before the market open, after the open source/cloud computing company reported better-than-expected first-quarter results and hiked its full-year forecast late Wednesday.
Pfizer (PFE, Fortune 500) and Bristol Myers Squibb (BMY, Fortune 500) released positive results from trials of its blood thinner, Eliquis, late Wednesday. Shares of Pfizer rose 4% in premarket trading, while shares of Bristol Myers Squibb climbed 7%.
Homebuilder Lennar (LEN) released earnings results before the opening bell Thursday, posting a 65% drop in quarterly profit. Shares fell 0.5% in premarket trading.
Software maker Oracle (ORCL, Fortune 500) will report earnings after the market close Thursday. Analysts expect Oracle to have earned 71 cents a share. Earnings from H&R Block (HRB) will also be released.
World markets: European stocks slumped in midday trading. Britain's FTSE 100 slipped 0.9%, the DAX in Germany tumbled 1.1% and France's CAC 40 dropped 1.2%.
In Asia, the Shanghai Composite ended up 1.5%, the Hang Seng in Hong Kong slid 0.5% and Japan's Nikkei lost 0.3%.
Currencies and commodities: The dollar strengthened against the euro, the Japanese yen and the British pound.
Oil for August delivery slipped $2.51, or 2.6%, to $92.90 a barrel.
Gold futures for August delivery fell $13.10 to $1,540.30 an ounce.
Bonds: The price on the benchmark 10-year U.S. Treasury rose, pushing the yield down to 2.96% from 2.99% late Wednesday.