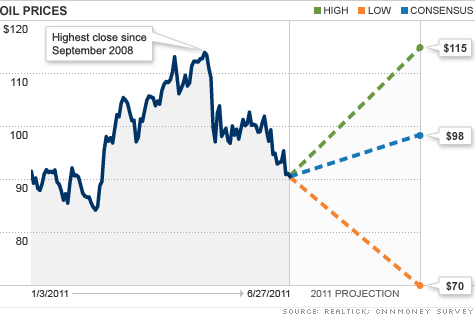 Oil and other commodities have overheated and are due for a pullback but the trend is still higher. Click chart for more commodity prices.
NEW YORK (CNNMoney) -- Oil tops $100! Gold surges to a record high! The economy continues to slow! Those are just some of the attention-grabbing headlines weighing on investors.
Commodities were on a tear earlier this year amid global worries like the Arab Spring uprisings, Japan's earthquake and more worries in Greece. As a result, they got "somewhat overcooked," said Adrian Cronje, chief investment officer of Atlanta-based Balentine.
But crude oil prices are currently sitting at $94 and change -- just about where they started the year. And gold prices -- while still about $100 higher from where they started 2011 -- are now below their peak.
That doesn't mean that commodities still don't have a place in your portfolio though. Investors just have to learn to stomach some of the day-to-day gyrations.
For example, oil prices slid 4% on the day the U.S. government said it would release 30 million barrels of oil from the Strategic Petroleum Reserve to alleviate Libyan supply disruptions. The move was largely seen as a political one and experts say U.S. economic growth will be the bigger driver.
"It is going to be a long haul to recovery [and] a lot of the next six months' weakness will be driven by people acknowledging the growth slowdown," said Cronje.
Prices may resume some semblance of normalcy as long as investors are able to adjust to the slowing pace of the recovery.
"There doesn't seem to be a whole lot of pop to this economy," said Jim Cordier, president and head trader of Tampa-based Liberty Trading. He thinks the trend in commodity prices will be steady to lower.
But other experts said commodities have room to run unless emerging market demand dries up.
"As long as China manages a soft landing, the demand outlook still appears robust," said Kevin Norrish, director of commodities research for Barclays, in his firm's global outlook report.
Meanwhile, the inflation fears that drove prices up during the first six months of the year have eased and analysts at Barclays say they expect growth to pick up in the third quarter.
"The whole inflation story is going to take a backseat to the sluggish economy," added Cordier, noting, however, that commodity prices "are not going to return to the highs we saw."
And experts surveyed by CNNMoney seem to agree.
For the most part, respondents anticipate oil prices will end the year up about 6% to $98 a barrel, on average.
Gold prices, meanwhile, are predicted to wind the year up with a more modest gain of about 1%, on average.
"Despite it being bumpy, gold still looks higher," said HSBC precious metals analyst Jim Steele. "There's at least a level of economic activity in emerging worlds that will put some floor on commodity prices."
The best advice for investors? "Don't get greedy," said Cronje. "This has been one of the most speculative rallies in history [and] investors should be patient in putting new cash to work in the market."
But most experts agree that investors should consider commodities as a way to diversify their portfolios.
"People forget commodities are a very volatile asset class," said Cronje. But they also provide a good hedge against 'unanticipated' inflation.