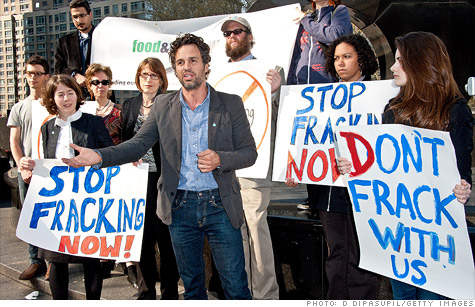 State proposes tight restrictions on controversial practice to extract natural gas. Industry, environmentalists respond with caution.
NEW YORK (CNNMoney) -- In a surprise move, New York state is likely to lift its ban on hydraulic fracturing, the controversial process used to extract natural gas.
The state's Department of Environmental Conservation released a draft Thursday of proposed regulations governing what's known as "fracking," in which drilling companies inject thousands of gallons of water, sand and some chemicals deep into the ground to crack shale rock and release gas.
The technique has unleashed one of the biggest energy booms in a century, but has also raised fears that it contaminates the water.
The rules would permanently ban fracking in the New York City watershed, located north of the city, and the Syracuse watershed. Aquifers in other parts of the state would also be off limits.
The rules would also prohibit drilling in state parks and on other public land, and establish what the DEC called strict rules for drilling in all other areas.
But the DEC would allow fracking in other parts of the state, leaving 85% of New York's Marcellus Shale, the vast formation laying under New York and much of the Appalachian Mountains, open for drilling.
"This report strikes the right balance between protecting our environment, watersheds, and drinking water and promoting economic development," DEC Commissioner Joseph Martens said in a statement.
The rules are now subject to a 60-day public comment period, set to begin in August. They will likely be modified before any drilling permits are issued.
New York has been operating under a de facto moratorium on fracking since 2008, with no permits being issued until the DEC further studied the issue.
Many other localities are banning fracking as fears mount over its effect on water supplies. Earlier this week New Jersey, which has hardly any natural gas reserves, saw its legislature ban the practice.
The prospect that fracking will be allowed in New York with tight regulations was met with guarded optimism by both the industry and major environmental groups.
Natural gas companies, which include many of the world's oil giants like Exxon Mobil (XOM, Fortune 500), Shell (RDSA) and BP (BP) as well as smaller firms like Chesapeake (CPK) and Devon (DVN, Fortune 500), have been pining to unlock the vast quantities of gas buried deep beneath the state.
The firms, along with big landowners in upstate New York that stand to make big money off the drilling, have argued that the state is missing out on one of the biggest energy booms this century.
Other states in the area, notably Pennsylvania, have seen a huge increase in jobs and government revenue from drilling.
A report last week from the conservative Manhattan Institute said allowing drilling in New York could inject over $11 billion dollars into the state economy in the years ahead.
"We look forward to working with New York's regulators to craft a comprehensive policy on natural gas development that protects the environment and that can open the door to the pent-up economic opportunity that exists in the state," the industry group America's Natural Gas Alliance said in a statement Thursday night.
But while developing shale gas has brought major economic benefits to local communities, it also comes with a cost.
Truck traffic and the resulting noise and air pollution are a shock to many living in previously quiet rural areas. But what people fear most is the effects on the water.
Fracking fluid has been spilled on drill sites before, where it has then leeched into local streams. There are also concerns about the disposal of the fluid and other tainted water that comes up with the gas, as well as fears that the natural gas itself may be seeping into drinking water wells as a result of the drilling process.
Long term, some fear the chemicals could ultimately migrate into the drinking water.
Major environmental groups say most of these risks can be managed with proper regulations. With proper oversight, they are generally supportive on shale gas development on the grounds that the fuel could be a useful tool in combating global warming. When burned to make electricity, natural gas produces about half as much carbon dioxide as coal.
Kate Sinding, an attorney and natural gas expert at Natural Resources Defense Council, said New York's proposed rules seem to contain at least some of the proper regulations.
"These proposed measures appear to represent a step in the right direction," Sinding wrote in a blogpost, "but a full review of the state's proposal is required before it can be determined whether New York's drinking water, public health and communities are fully protected."
Local environmental groups have been more skeptical. Many citizens in New York have been pushing for a permanent ban.
One local group, Catskill Citizens for Safe Energy, gave the DEC credit for proposing rules that were much stronger than the agency originally proposed in 2009.
But it was still skeptical of the process.
"The full development of the Marcellus Shale will entail the underground injection of hundreds of billions of gallons of toxic fluid that will never be recovered," the group said in a statement. "No one can say with certainty that these toxic fluids won't present a threat to our drinking water supplies in the years and decades to come."