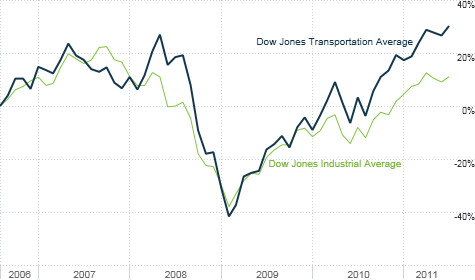 Transportation stocks have fully recovered from the recession and bear market. But that may not matter until the broader market is hitting new highs as well.
NEW YORK (CNNMoney) -- The pigeon in my son's favorite series of children's books "loves things that go." (Mo Willems is a genius.) Well, the market loves things that go too.
The Dow Jones Transportation Average (DJT), a collection of 20 truckers, shippers, railroads and airlines, hit an all-time high last week during the broad market rally and was trading near a new one Wednesday. That's right. An all-time high. Not a mere 52-week high.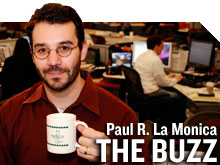 Is that cause for celebration? After all, transportation stocks are often considered a strong leading indicator of economic growth.
If the rails, skies, seas and highways are crowded with trains, planes, boats and trucks shipping all sorts of stuff, that must mean companies are producing goods that they think consumers actually want to buy.
However, a closer look at the components of the index show that the strength isn't necessarily tied to optimism about the economy. It may have more to do with the commodities boom.
The companies in the Dow Jones Transportation Average that are actually doing well this year are mainly the railroad companies and truckers, the ones who benefit the most from carrying coal, corn, oil and other commodities whose prices have surged.
Trucking companies J.B. Hunt Transport Services (JBHT) and Landstar System (LSTR) are up more than 15% this year while CSX (CSX, Fortune 500) and Norfolk Southern (NSC, Fortune 500) have each gained more than 20% year-to-date.
But it's a different story when you look at other transport stocks that have more direct ties to jittery consumers and that are hurt by rising fuel prices.
There are five airlines in the Dow Jones Transportation Average. All five stocks are down, with AMR (AMR, Fortune 500) and Delta (DAL, Fortune 500) each having plunged about 30%.
Shipping giants UPS (UPS, Fortune 500) and FedEx (FDX, Fortune 500) have both lagged the market this year. They are only up about 4%. Smaller freight shippers C.H. Robinson Worldwide (CHRW, Fortune 500) and Expeditors International (EXPED) are also trailing the broader market's gains.
That's troubling. If all the transports were having an up year, it would probably be a more concrete sign that the broad economy is actually on the upswing again. Instead, the strength in the transports is just further evidence of the commodity bull run.
Fortunately, some of the other transports are slowly gaining strength.
FedEx has hinted that its fortunes are improving. That could bode well for the rest of the group and overall market and economy. FedEx issued solid guidance for its fiscal year a few weeks ago.
But even that good news needs to be taken with a grain of salt. FedEx specifically cited the moderate recovery in the global economy, as opposed to the U.S. alone, for its healthy quarterly results and guidance.
Demand is clearly stronger abroad than in the U.S. FedEx reported that volume for U.S. packages fell 1% in its most recent quarter, which ended in May, from a year ago. But international priority shipping volume rose 6% from last year while international domestic volume was up 15%.
That's not bad news but it means that FedEx and other transportation companies may continue to benefit from the fact that they are doing more business in countries with faster-growing economies in Asia, South America and other emerging markets.
Market experts talk a lot about how you need to see the transports hit new highs along with the broader Dow Jones industrial average (INDU) in order to get truly excited about the overall market. But the Dow 30 is still more than 10% below its top point.
"The transports are at a new high, which is good. But the Dow industrials are still not close to their 2007 peak," said John Kosar, director of research with Asbury Research in Chicago."So either the transports are leading or they've gotten ahead of themselves."
"Something is mispriced and the rally in transports seems suspect," Kosar added. "Look at the fundamentals. The housing market is horrible. Unemployment is still high."
So while it's usually a good sign for the U.S. economy that transport stocks are hitting new highs, that may not be the case this time around.
The opinions expressed in this commentary are solely those of Paul R. La Monica. Other than Time Warner, the parent of CNNMoney, and Abbott Laboratories, La Monica does not own positions in any individual stocks.