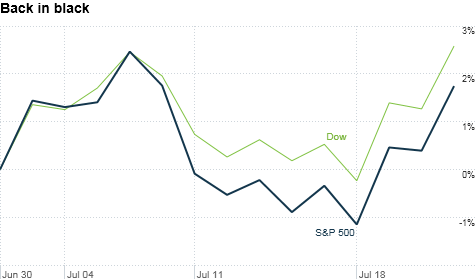 The recent market rally has pushed stocks into positive territory for July. That follows two straight months of losses.
NEW YORK (CNNMoney) -- It may be a stretch to suggest that investors are doing their best imitation of Roman emperor Nero. You know. The dude who fiddled while the city burned?
But stocks are enjoying a nice rally Thursday. The S&P 500 (SPX) is actually now in the black for the month following declines in May and June.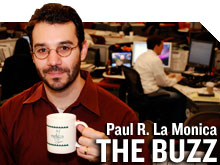 And the yield on the 10-Year Treasury has slowly edged back up toward 3%, a potential sign that investors feel the economy isn't completely doomed.
Isn't it a bit odd that investors are this giddy at a time when much of the developed world is busy trying to fight what looks like a debt forest fire with the equivalent of a garden hose?
Even if Greece avoids a full-blown default, there are still worries about the debt loads in Ireland and Portugal, rampant unemployment and a banking crisis in Spain and budget strains in Italy.
It is also not yet clear that Democrats and Republicans are any closer to a real deficit solution. And August 2 is just a week and a half away.
Still, several market strategists said that despite some of the gloomy headlines, there was only a small chance that politicians and regulators would allow for a wave of defaults in Europe and fail to raise the debt ceiling in the United States.
So if, as now widely expected, the EU's latest plan to save Greece prevents a euro implosion AND the nitwits in D.C. finally come to some sort of deficit deal, that's a huge reason for the markets to breathe a sigh of relief.
"The biggest risk to the global economy is some sort of policy mistake -- a disorderly default in Europe or partisanship in the U.S. leading to no debt ceiling agreement," said Bob Baur, chief global economist with Principal Global Investors in Des Moines. "That seems to be off the table."
With that in mind, Rex Macey, chief investment officer at Wilmington Trust in Atlanta, said that he doesn't characterize the recent move up in stocks as a sign of optimism as much as it is "a recovery from the pessimism" that weighed on the markets during the past two months.
It also doesn't hurt that the latest batch of quarterly profit reports from tech leaders Apple (AAPL, Fortune 500), Google (GOOG, Fortune 500) and IBM (IBM, Fortune 500), and big banks Wells Fargo (WFC, Fortune 500) and JPMorgan Chase (JPM, Fortune 500) have been fairly strong.
"Earnings continue to impress. Combine that with just even a little bit of good news on the macroeconomic front in Europe and the U.S., and stocks should rally through the end of the year," said Haag Sherman, managing partner with Salient Partners, an investment firm in Houston.
Nonetheless, investors probably need to keep a wary eye on Europe.
Until it's clear that the PIIGS crisis is completely in the rearview mirror, Baur said he expects stocks to remain volatile for the foreseeable future -- even if the long-term trend is for them to climb higher. He added that he expects bond rates to continue creeping up as well. That could also cap some of the gains in stocks.
And then there's the outlook for the U.S. after August 2.
Even if our nation's finest elected officials link arms and sing a rousing chorus of "Kum Bah Yah" in the Capitol building to celebrate how they preserved our triple-A credit rating, it's not like the economy all of a sudden will be miraculously cured of its ails come August 3.
"A debt deal doesn't change the fundamentals of the economy. It just eliminates something for the market to worry about in the short-term," Sherman said. "Ultimately the focus still needs to be on jobs and housing -- especially with an election year coming up."
Macey takes it one step further. He argues that while the market still looks attractive because much of the bad news may already be priced into stocks, he doesn't think that the economy is going to feel a whole lot better just yet.
The economy may be improving. But as someone (oh yeah, that's me) has been fond of saying for the past year, this is a BBQ recovery. Low and slow.
"It's a weak recovery. But recovery is the operative word," Macey said. "It's not a recession. But some days it will look like it's getting better and some days it will look like it's getting worse."
The best we probably can hope for is that the "getting better" days outnumber the "getting worse" days.
The opinions expressed in this commentary are solely those of Paul R. La Monica. Other than Time Warner, the parent of CNNMoney, and Abbott Laboratories, La Monica does not own positions in any individual stocks.