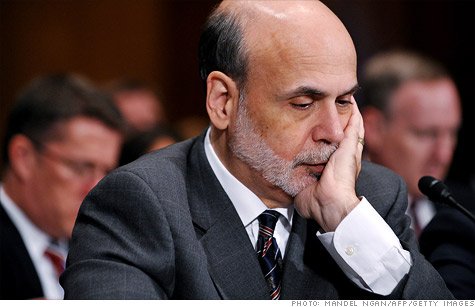 Fed Chairman Ben Bernanke testifies before the Senate Committee on Banking, Housing, Urban Affairs on The Wall Street Reform Act on July 21, 2011.
WASHINGTON (CNNMoney) -- Federal regulators on Thursday updated senators on the progress of financial system reforms that went into law a year ago, and they defended against criticisms about the pace at which reforms are being implemented.
In testimony to the Senate Banking committee on the one year anniversary of the Dodd-Frank Act, regulators kept pointing out the purpose of the financial reforms, such as reining in complex and potentially destructive financial products and heading off more bank bailouts to avert financial collapse. The regulators all said the new rules will make the financial system more stable and better able to survive crises.
"As we work together to implement financial reform, we must not lose sight of the reason that we began this process: Ensuring that events like those of 2008 and 2009 are not repeated," said Ben Bernanke, chairman of the Federal Reserve Board. "Our long-term economic health requires that we do everything possible to achieve that goal."
A year after Dodd-Frank's passage, a new process is in place to wind down failing financial firms and avert bailouts, and the new Consumer Financial Protection Bureau launched today as an independent agency to regulate credit cards and mortgages among other financial products.
But no one knows whether the federal government will truly allow banks to fail. And no one knows how effective the new consumer bureau will be, especially because it still lacks a Senate-confirmed director.
Already, regulators have missed many deadlines to issue new rules and studies. And lawmakers may not give regulators the funding needed to carry out and enforce the new rules.
Mary Schapiro, head of the U.S. Securities and Exchange Commission, said the agency has proposed or adopted two-thirds of the 90 rules it is required to roll out by the law.
"While some feel we are moving too quickly and others feel we are not moving rapidly enough, I believe we are proceeding at a pace that ensures we get the rules right," Schapiro said.

Committee senators on both sides of the aisle blamed each other for lack of progress on certain aspects of reforms.
"Unfortunately, these reforms have been under constant attack since this bill was signed into law," said Senate Banking chief Tim Johnson, a South Dakota Democrat.
In one such "attack," Senate Republicans have vowed to block the confirmation of a director to the Consumer Financial Protection Bureau, unless Democrats agree to make the bureau more subject to oversight and restructured to be governed by a panel, instead of a director.
But ranking Republican Sen. Richard Shelby of Alabama, defended the Republicans' move.
"Secretary Geithner also claims that Republicans are blocking nominations 'so that they can ultimately kill reform'," Shelby said. "However, Senate Republicans have been clear that the structure of the Bureau of Consumer Financial Protection needs to be properly reformed before we consider any nominee to lead it."
President Obama nominated Richard Cordray on Monday to head the new Consumer Financial Protection Bureau. Yet, it's unclear whether Cordray, former Ohio attorney , will get a chance to serve.
Sen. Jack Reed, a Rhode Island Democrat, asked Schaprio about efforts to cut funding to the SEC and how the agency would be able to go after bad behavior on a limited budget.
"Our capacity to keep up with that kind of volume on a declining budget will be really impacted," said Schapiro, who added that this worries financial firms that are following the rules. "Everybody has a stake in these agencies' ability to do their jobs."