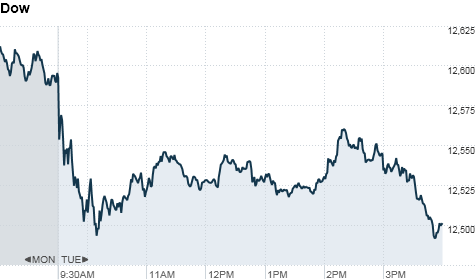 Click the chart for more market data.
NEW YORK (CNNMoney) -- U.S. stocks retreated Tuesday, as concern about the outlook for corporate earnings and ongoing worries over the U.S. debt ceiling shook investor confidence.
The Dow Jones industrial average (INDU) fell 92 points, or 0.7%, to 12,501. The S&P 500 (SPX) lost 5.5 points, or 0.4%, to 1,332 and the Nasdaq Composite (COMP) fell 3 points, or 0.1%, to 2,840.
The Dow was dragged lower by industrial conglomerate 3M (MMM, Fortune 500), whose shares sank more than 5%, after the company's quarterly results missed some analysts' expectations.
Despite beating expectations for quarterly earnings, shares of several companies fell -- including Netflix (NFLX), UPS (UPS, Fortune 500) and Ford (F, Fortune 500) -- as investors remain concerned about companies' outlooks.
Investors have been torn between two forces: second-quarter corporate results that have been generally positive and concerns tied to the continuing battle over the United States' debt ceiling. Of the S&P 500 companies that have reported their quarterly results so far, 73% have beaten expectations, according to data by Thomson Reuters.
"You have to attempt to put the political noise aside, and look at the fundamentals -- in this case, corporate earnings," said Frank Davis, director of sales and trading at LEK Securities. "We are under the belief that this debt ceiling issue will get worked out."
The rhetoric over the debt ceiling ratcheted up further late Monday, after President Obama and House Speaker John Boehner each used primetime television addresses to make their case to the American people.
The president singled out the House Republicans, and said the political showdown is "no way to run the greatest country on Earth." But as Tuesday wore on, there was no clear legislative path forward.
Months of increasingly tense negotiations have failed to bring a deal that can win approval from all of the necessary players -- the Republican-led House, Democratic-led Senate and the White House.
"It's going to come down to the wire," said Kenny Landgraf, principal and founder of Kenjol Capital Management. "It's just going to come down to who is going to blink first."
Stocks started the week in the red Monday, after lawmakers failed to agree on a debt ceiling deal over the weekend.
Economy: The S&P Case-Shiller 20-city home price index fell 4.5% on a year-over-year basis in May, but was up 1% on a month-over-month basis.
New-home sales dropped to an annual rate of 312,000, according to a report from the Commerce Department. The data were lower than the 325,000 units economists had predicted.
The Conference Board said its consumer confidence index rose to a reading of 59.5 in July from 57.6 in June. Economists had expected the index to slide to 55.3.
Companies: Netflix (NFLX) shares dropped 5% on Tuesday, making it the among the worst performers on the S&P 500 and Nasdaq. The video rental company spent much of its Monday earnings release discussing problems -- namely, a recent price hike that launched thousands of online complaints.
Shares of RadioShack (RSH, Fortune 500) jumped 20% on Tuesday after the company announced a partnership with Verizon Wireless. This comes after the company posted a worse-than-expected second-quarter profit.
AK Steel (AKS, Fortune 500) shares dropped 17%. The steel maker posted a quarterly profit of 30 cents a share, well short of the 50 cents that analysts were looking for.
Ford (F, Fortune 500) reported better-than-expected quarterly earnings of $2.4 billion, as sales climbed 13% to $35.5 billion. However, shares for the automaker fell 2%.
International package delivery company UPS (UPS, Fortune 500) -- often considered an economic bellwether -- also posted better-than-expected earnings, as strong shipping volume in China and Europe helped offset flat sales in the United States. Shares were down 3%, however.
Shares of online retailer Amazon.com (AMZN, Fortune 500) rose 5% in after-market trading after the company's quarterly sales jumped 51%, beating expectations.
Currencies and commodities: The dollar weakened against the euro, the Japanese yen and British pound.
Oil for September delivery gained 39 cents or 0.4%, to $99.59 a barrel.
Gold futures for August delivery gained $4.60 to $1,616.80 an ounce.
World markets: European stocks closed mixed. Britain's FTSE 100 and the DAX in Germany both ended the session mostly unchanged, while France's CAC 40 fell 0.7%.
Asian markets ended higher. The Shanghai Composite closed up 0.1%, the Hang Seng in Hong Kong rose 1.3% and Japan's Nikkei advanced 0.5%.
Bonds: The price on the benchmark 10-year U.S. Treasury rose, pushing the yield down to 2.95% from 3% late Monday.