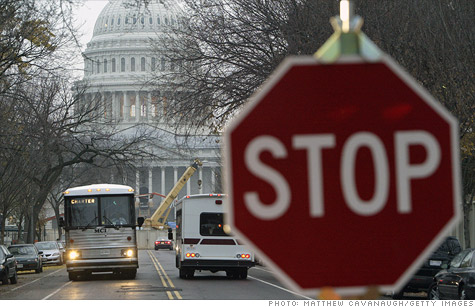 NEW YORK (CNNMoney) -- The debt ceiling debate has degenerated into another messy display of congressional dysfunction.
And if the Republican bill to raise the ceiling is enacted in its current form, the horror show will return for an encore performance in just a few months.
The timing isn't great. Lawmakers are already facing a calendar littered with fiscal hang-ups.
The debt ceiling bill favored by House Speaker John Boehner would initially raise the nation's borrowing limit by $900 billion and pass discretionary spending cuts of slightly more than that.
That increase in the ceiling would let Treasury to borrow until this winter. But then lawmakers will need to hike the ceiling again in order to make good on America's obligations.
And that would require another vote.
There are few reason to believe that vote, held going into an election year, would be any less contentious.
The Boehner bill faces long odds in the Senate, and President Obama has threatened to veto it -- so it's unclear if the "two-step" hike will make it into a deal to raise the debt ceiling.
But does the economy really need another debt ceiling fight?
On top of any additional debt ceiling votes, lawmakers are already guaranteed another fiscal showdown. As the clock ticks toward next week's debt ceiling deadline, it is also counting down to the Oct. 1 start of the fiscal year.
Instead of a sparring match over the nation's legal borrowing limit, lawmakers will be fighting over how much the government should authorize federal agencies to spend over the coming year.
Under normal circumstances, authorizing appropriations is a difficult and drawn-out process. But lately, it's been positively dysfunctional.
As even school children know, Congress has the responsibility to appropriate funds for the government to spend. It's right there in Article 1 of the Constitution. But this year lawmakers fell down on the job.
Over a six-month period, Congress passed seven band-aid budgets, called "continuing resolutions." With lawmakers still focusing on fiscal matters, the same fight is likely to start all over again in September.
It's an ugly idea, but given the inability of Congress to resolve fiscal issues in a timely manner, it is possible that the country will face a government shutdown, followed closely by another debt ceiling fight -- and all before the clock runs out on 2011.
For an economy mired in a tepid recovery, and with unemployment rates stuck at elevated levels, the kind of uncertainty Washington is adding to the mix is certainly not helping matters.
While it's great if the spending cuts that Republicans want to extract from this process bring deficits down to a more sustainable level -- the process might be hurting more than it's helping.
Already, credit rating agencies are warning the charged political atmosphere could contribute to a downgrade of U.S. debt.
Standard and Poor's said that it could downgrade long-term U.S. debt if it concludes "future adjustments to the debt ceiling are likely to be the subject of political maneuvering."
And economists say the debt ceiling debate has already damaged the U.S. economy, and many worry that a deadlock could push the country into another recession.
So far, the damage has been fairly limited, with most economists surveyed by CNNMoney saying the debate has reduced the nation's gross domestic product by less than 1 percentage point to date.
On Thursday, the CEOs of the nation's largest financial institutions said the nation needs a "credible and predictable path forward" in order to facilitate economic growth.
"[P]olicymakers must correct our fiscal course now, inspire market confidence by paying all of our bills on time, and demonstrate that America is a democracy capable of putting differences aside to solve our most challenging problems," the CEOs said.
Are you in extreme debt and can't pay your bills? E-mail Erica.Fink@turner.com if you'd like to be included in an upcoming CNNMoney story or video. Please indicate in your e-mail if you're interested in being in a video.