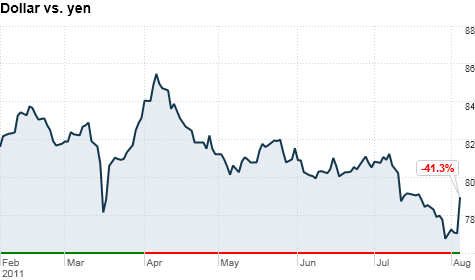 Click the chart for more on currencies.
NEW YORK (CNNMoney) -- The yen sank more than 2% against the dollar Thursday -- its biggest drop in almost a year -- after the the Japanese government stepped in to curb the currency's recent rise for the third time in a year.
The Bank of Japan boosted its asset purchases by ¥10 trillion, or $126 billion, to ¥50 trillion, while leaving interest rates unchanged at 0.1%.
"We seem to be in a period of synchronized global contraction," said Boris Schlossberg, director of currency research at GFT Forex. "Europe, the United States and maybe even China growing facing slower economic growth, and in that environment, the yen tends to strengthen."
The government last intervened in March along with other G-7 countries, after the yen hit a record high against the dollar, breaking through 80 yen for the first time since 1995. That move helped push the yen as low as 85 against the dollar in April.
But the yen has rebounded to hover near those record high levels over the past month, as investors flock toward low-risk, safe haven currencies amid increasing signs of a slowing global economy.
"That strong of a yen is simply unsustainable for the Japanese economy since it is so export driven," said Schlossberg, adding that exporters have suffered heavy erosion in their profits due to the yen's strength.
For example, Japanese automaker Mazda posted a ¥25.5 billion loss last week for the quarter ended June 30, in large part due to the yen's appreciation.
The car maker exports about 80% of the vehicles built in Japan, and a strong yen diminishes its price competitiveness and shrinks the income from overseas markets when its converted back to yen.
"The Japanese economy is still trying to recover from the earthquake earlier this year, so it's very important to stimulate as much growth as possible," Schlossberg said.
Despite Japan's commitment to stem the yen's strength, however, the intervention will likely be ineffective as long as investors remain swept by fear. As concerns about a global economic slowdown continue to build, investors will flee risky assets and rush toward those that are perceived to be safer -- including the yen.
Japan's move followed the Swiss National Bank's decision Wednesday to cool the Swiss franc, which has recently hit all-time highs against the dollar due to strong safe have flows.