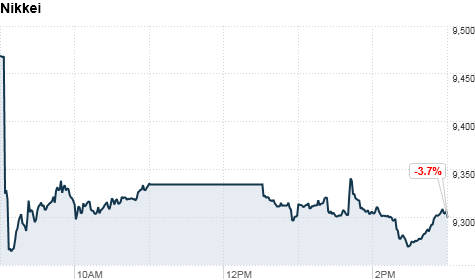 Click on chart to see more world markets data.
NEW YORK (CNNMoney) -- World markets sold off Friday, a day after the Dow industrials had its worst point loss since the 2008 financial crisis.
"I seems that yesterday was the day that markets finally woke up to the very real prospects of another imminent and major financial crisis," said Deutsche Bank analysts Jim Reid and Colin Tan, in a research note.
The Dow tumbled 512 points Thursday -- its ninth deepest point drop ever -- as fear about the global economy spooked investors.
The selling spilled into overseas markets early Friday.
Japan's Nikkei (N225) closed down 3.72%, while Australia's All Ordinaries (XAO) slid more than 4%.
Hong Kong's Hang Seng (HSI) fell more than 4% in afternoon trading, while China's Shanghai Composite (SHCOMP) was less than 2% lower.
European stocks initially plunged, but managed to ease those losses somewhat before resuming their downward spiral. The FTSE 100 (UKX) closed down 2.7%, Germany's DAX (DAX) lost 2.8% and France's CAC 40 (CAC40) 40 fell 1.3%.
Heightening concerns in Europe, a monthly economic bulletin from Banco de Espana showed that the Spanish economy slowed down through the second quarter on its road to an already "moderate recovery." Gross domestic product grew 0.2% quarter-over-quarter, or 0.7% year-over-year.
Corporate earnings from two big European companies were also in play. Shares of Royal Bank of Scotland (RBS) fell more than 5% after the bank reported a wider-than-expected loss for the first half, but managed to erase its losses later in the session and were up by 1.4%.
On a brighter note, Italy's largest phone company, Telecom Italia (TI), reported earnings and revenue that topped forecasts. Shares of the telecom company jumped 13%.
In the United States, all three major indexes tumbled more than 4% Thursday and erased all their gains for the year. The indexes have also pushed into "correction" territory -- defined as a 10% drop from recent highs. The Dow (INDU), Nasdaq (COMP) and S&P 500 (SPX) have all fallen 10% in just the last 10 days.
On Friday, U.S. stocks whipsawed throughout the day, with the Dow swinging more than 400 points, after a strong report on American jobs surprised investors.