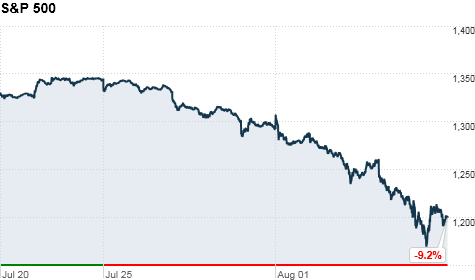 Stocks have fallen sharply since mid-July on concerns the U.S. economy may be slowing. Click the chart for more market data.
NEW YORK (CNNMoney) -- Standard & Poor's decision late Friday to downgrade the United States' credit rating sparked fear and many questions: Would stocks tank, first in Asia Sunday night and then in New York Monday morning? Would interest rates on U.S. Treasuries spike higher?
Consensus from economists and investment strategists built quickly that while there could be an initial shock, the downgrade itself should not impact markets too much.
"S&P doesn't know anything that investors don't already know, so the downgrade should not change expectations and interest rates," said Martin Feldstein, Harvard economist and former head of the National Bureau of Economic Research.
Still, the relative optimism came with a big, fat caveat: It is unprecedented for the U.S. to not have a AAA credit rating.
"We've never been through this before. People don't know what to expect," said Ted Weisberg of Seaport Securities, who has spent decades on the floor of the New York Stock Exchange. "So you have to be careful."
And besides, even if investors shrug off the downgrade, there are plenty of other issues that could weigh on markets.
"The initial reaction when the financial markets open on Monday could be severe," wrote Paul Dales of Capital Economics in a note after the downgrade. "Overall, though, we think that any adverse market reaction will be temporary. Once the dust settles, attention will turn back to the economic fundamentals."
Those weak economic fundamentals contributed to the worst week for stocks since the 2008 financial crisis and a sharp drop in Treasury yields.
Because of the growing fears about the economy falling back into recession, the latest policy announcement from the Federal Reserve on Tuesday will be key.
While the Fed is expected to leave interest rates at near-zero levels, the recent dismal economic data is making investors speculate that the Fed may need to consider additional stimulus.
"There are levers that the Fed can use like QE3, but the question is whether the Fed sees the need to pull them," said Bruce McCain, chief market strategist with Key Private Bank.
For investors, the other question is whether the Fed sees the recent bad economic data like the second-quarter GDP report, or July's ISM manufacturing report as just temporary setbacks or whether the U.S. economy is slowing.
Another concern that contributed to rough week for financial markets was the escalating European debt crisis.
"There's a crisis of confidence going on both in the U.S. and Europe," said David Levy, portfolio manager with Kenjol Capital Management.
Finally, while earnings season is coming to an end, investors will get quarterly results from tech bellwether Cisco Systems (CSCO, Fortune 500) and media giant Disney (DIS, Fortune 500) this week.
On the docket
Monday -- There is no economic data out on Monday and only a handful of company earnings, including results from Tyson Foods (TSN, Fortune 500).
Tuesday -- All eyes will be on the Federal Reserve when it releases its policy decision at around 2:15 p.m. ET.
After the closing bell, Dow component Walt Disney will head to the earnings stage. The media giant is expected to earn a profit of 73 cents a share.
Wednesday -- Dow member and technology giant Cisco Systems reports its quarterly results after the closing bell. Analysts are looking for it to report a profit of 38 cents a share, according to Thomson Reuters.
Also reporting after the closing bell is media company News Corporation (NWSA, Fortune 500), which has recently been in the news due to its alleged part in the U.K.'s phone hacking scandal.
The sole economic report out on Wednesday is June wholesale inventories, which are expected to rise 1%.
Thursday -- Investors will get the Labor Department's weekly jobless claims report and U.S. trade balance figures at 8:30 a.m. ET. The number of people filing for unemployment benefits is expected to climb to 409,000 and economists expect the U.S. will post a $48 billion trade deficit for June.
Companies reporting on Thursday include chip maker Nvidia (NVDA), and retailers Kohl's (KSS, Fortune 500) and Nordstrom (JWN, Fortune 500).
Friday -- The Commerce Department will release its July retail sales report at 8:30 a.m. ET. Economists are looking for retail sales to climb 0.5%, or 0.2% excluding volatile car and truck sales.
Also out on Friday is the University of Michigan's consumer sentiment reading for August and the Commerce Department's June business inventory report.
JC Penney (JCP, Fortune 500) will report its quarterly results, with analysts expecting the retail chain to post a profit of 6 cents a share.