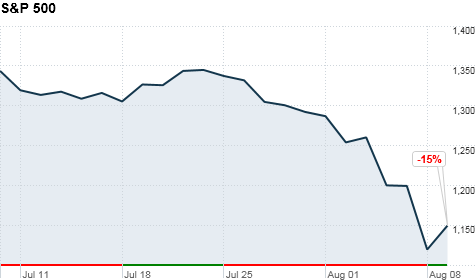 NEW YORK (CNNMoney) -- It's been an ugly few weeks on Wall Street. Stocks have fallen far and fast. But all the panic selling has created a sweet buying opportunity for some companies, according to investment experts.
Stocks have tumbled 15% during the last month, and are down almost 20% from the year's highest level reached in April. The losses suffered during two of the last four trading sessions have been the worst since the 2008 financial crisis.
Following that slide, stocks are trading at a deep discount -- about 12 times forward earnings.
Not only is that compelling on a historical basis, but it's also at a time when companies are delivering strong earnings and have a record amount of cash on their balance sheets, noted Doug Cote, chief market strategist at ING Investment Management.
That may be why value guru Warren Buffett's firm Berkshire Hathaway (BRKA, Fortune 500) made a bid for Transatlantic Holdings (TRH) Monday, while legendary investor Carl Icahn of Icahn Enterprises (IEP, Fortune 500) told CNBC he has been "buying quite a bit" since the market's decline is "completely overdone."
While the recent sell-off has hit the market pretty broadly -- every single stock in the Dow Jones industrial average (INDU) and S&P 500 (SPX) finished in the red Monday -- experts are eying some rare opportunities.
"Some of the best of breed in Corporate America are on a fire sale," said David Rolfe, chief investment officer at Wedgewood Partners. "Apple (AAPL, Fortune 500) and Google (GOOG, Fortune 500) shares are screaming bargains."
Outside of technology, Rolfe likes engine maker Cummins (CMI, Fortune 500), pharmacy-benefit manager Express Scripts (ESRX, Fortune 500), Buffett's Berkshire Hathaway (BRKA, Fortune 500), and Goldman Sachs (GS, Fortune 500).
Mitch Rubin, a portfolio manager of the RiverPark Large Growth Fund (RPXFX) says to focus on companies that are rich in cash and draw considerable revenues from international markets so that they can continue to post double-digit earnings growth even as the U.S. economy recovers at a very slow rate.
That includes companies like eBay (EBAY, Fortune 500), data center operator Equinix (EQIX), as well as agricultural giant Monsanto (MON, Fortune 500).
Dividend growth is also attractive, said Rob Stein, founder and senior portfolio manager at Astor Asset Management. He recommends the SPDR SYP Dividend ETF (SDY), noting that dividend yields of S&P 500 companies are nearly equal to the yield on 10-year Treasuries.