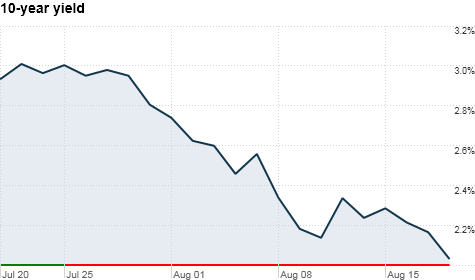 Click chart to track bond yields.
NEW YORK (CNNMoney) -- The yield on the benchmark 10-year Treasury note dropped to an all-time low Thursday, as investors rushed to the safety of U.S. debt in the wake of a huge stock sell-off.
Yields dropped as low as 1.99% from 2.16% late Wednesday. The previous record was 2.03%.
Treasury prices were pushed up -- and yields lower -- as stock markets around the world plummeted. The stock sell-off was triggered as a series of disappointing economic reports and a gloomy outlook from Morgan Stanley renewed fears about a slowing global economic recovery.
The investment bank slashed its global growth outlook for 2011 and 2012, adding that the United States and Europe are "hovering dangerously close to a recession."
That sent investors scurrying for traditional safe havens of U.S.-backed bonds and gold. In uncertain times, investors typically flee risky assets such as stocks and pile into perceived safe havens, which include U.S. Treasuries.
While the yield on the 10-year note recovered slightly to 2.09%, the yield on 5-year notes dropped to 0.90%. Short-term 2-year notes fell to 0.20% and 30-year bond hit 3.44%.
With European markets already in sharp retreat, the rush to U.S. debt accelerated as investors received a one-two-three punch of dour economic reports.
The Labor Department reported that weekly jobless claims rose by 9,000 claims to a weaker-than-expected 408,000. Another report indicated Americans paid more for consumer goods and services in July, as inflation rose more than expected over the month.
The Philadelphia Federal Reserve's regional index plunged to a reading of minus 30.7 in July, showing severe contraction in economic activity last month. The number was far worse than expected, with economists expecting a reading of plus 0.5.
"There's lot to be debated about concerning the current economy, but the obvious market reaction to such a dramatic manufacturing number is hard to dispute," Jim Vogel, an interest rate strategist at FTN Financial, wrote in a research note. "The voices talking about recession will be listened to more closely."
Last week, Treasury yields slid after the Federal Reserve said it plans to keep interest rates "exceptionally low" until at least 2013.