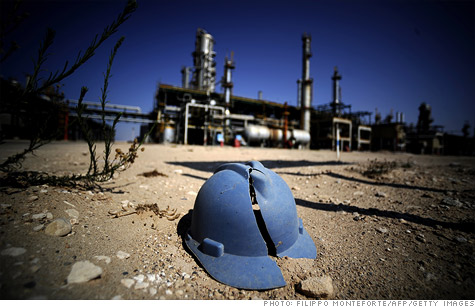 Restarting production from old wells is a tricky process, and right now the country is a mess.
NEW YORK (CNNMoney) -- If the Libyan rebels have successfully overthrown the country's longtime dictator Moammar Gadhafi, as seems to be the case Monday, analysts say Libya's prized "light oil" should begin trickling back on the market within a few months.
But it could be years before it returns in any substantial amount.
Once producing 1.6 to 1.8 million barrels a day, Libyan oil production was cut to near zero after civil war broke out in February. The cut, which represented about 2% of global oil production, caused oil prices to spike and was the main reason several developed nations released oil from their strategic stockpiles earlier this summer.
If stability returns in short order, analysts say the country could be producing over half a million barrels a day in a few months.
Employees from the international oil companies need to return, and equipment and vehicles looted during the fighting need to be imported, said Ross Cassidy, a Libyan oil analyst at the energy research firm Wood Mackenzie.
From there, the extent of the damage to refineries, pumps and pipelines needs to be assessed, said Cassidy. No one really knows how badly this infrastructure has been hit.
If the damage isn't too bad, the country could start producing oil from its newest oil fields located north and south of Tripoli, the capital, in a few months.
But the larger problem is ramping up production from the country's older oil fields. Located in the eastern desert, they accounted for the bulk of Libya's pre-civil war output.
Due to their age, those fields needed to be constantly pressurized by injecting gas or water to force the oil to flow. Once that process stopped, getting the wells flowing again will be difficult.
New pumps may have to be installed, and hundreds of wells will need complete workovers.
"We estimate that it will take around 36 months for the country to recover its full production capacity," said a recent Wood Mackenzie report.
Most of Libya's oil goes to refineries in Europe and is produced or bought by European oil companies like Italy's Eni, Spain's Repsol and France's Total (TOT).
Libya holds the most oil reserves in Africa but much of it is as-yet untapped. As such, most major oil companies have returned to prospect in the desert, including BP (BP), Royal Dutch Shell (RDSA), ExxonMobil (XOM, Fortune 500) and ConocoPhillips (COP, Fortune 500), said Frank Verrastro, director of the energy and national security program at the Center for Strategic and International Studies.
News Monday that Libyan rebels controlled much of Tripoli sent oil prices lower in Europe.
But Verrastro doesn't expect a long term drop in prices with the return of Libyan oil.
Oil prices have already dropped considerably since February, when the crisis began. That will provide less incentive for oil companies to make quick repairs to the country's wells, said Verrastro.
Plus, the gradual increase in production from Libya will probably be offset by a reduction from Saudi Arabia, which ramped up its output to cover during the Libyan shortfall.
"I don't think we'll see a flooding of the market," he said.
Still, the return of oil from Libya and a stabilization of the political scene there should ease traders who were previously concerned that the unrest in places like Libya and Egypt could spread to the broader Middle East, which supplies the world with about a third of its oil.
"There's still a lot of geopolitical risk out there, but nothing on the order of what we saw with Libya," said Verrastro, noting that Libya was the only country in the region to see a significant drop in oil production during the Middle East uprisings. "Stability has seemed to come back."