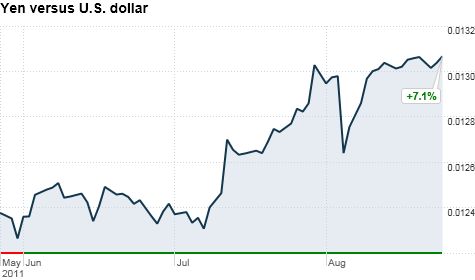 Click chart for more currency data.
NEW YORK (CNNMoney) -- The Japanese government announced a plan aimed at weakening its currency, without directly intervening.
The Japanese government has already stepped in three times to try and weaken the yen, which has risen some 6% against the dollar from the start of the year.
In March, the yen hit a record high against the dollar, breaking through 80 yen for the first time since 1995. In early trading Wednesday, the yen was modestly higher against the dollar at 76.56.
"We still observe a one-sided surge on the yen," said Japanese Finance Minister Yoshihiko Noda.
Noda unveiled an "emergency package" Wednesday, consisting of a $100 billion fund used to spur exports and overseas investments, and a requirement for all major Japanese financial institutions to report their currency-trading positions.
"It opens a large amount of capital to invest in destinations where Japan is building up its presence, much as China has been doing for a while," said Sebastien Galy, senior currency analyst at Societe Generale.
Experts think the government may have to do more to really make an impact.
"The set of decisions taken by the Japanese authorities were disappointing," said Galy. And currency analyst Marc Chandler noted, "The market will recognize the Japanese government has no quick-impact measures to stem the yen's appreciation against the dollar."
The currency plan follows an announcement by Moody's (MCO) that it was downgrading the Japanese government's credit rating to Aa3 from Aa2 with a stable outlook.
That sent the Nikkei (N225) down about 1%.
"The rating downgraded is prompted by large budget deficits and the build-up in Japanese government debt since the 2009 global recession," said Moody's, in a statement.
The rating agency said the downgrade was also prompted by the growth of Japan's debt-to-GDP ratio. Moody's blamed the earthquake-tsunami disaster for having "delayed recovery" and "aggravated deflationary conditions."
On the other hand, Moody's said that Japan's stable outlook is supported by the loyalty of Japanese investors "and their preference for government bonds, which allows the government's fiscal deficits to be funded at the lowest nominal rates globally."
The rating agency added that Japanese government bonds demonstrated "exceptionally strong safe-haven features" even in the wake of the earthquake-tsunami.
-- CNN International's Yoko Wakatsuki contributed to this report.