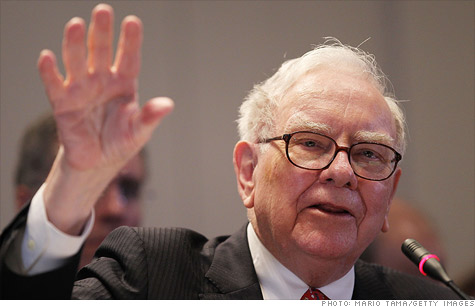 Berkshire Hathway's Warren Buffett has made a big investment in Bank of America. But is the worst really over for the stock?
NEW YORK (CNNMoney) -- Bank of America CEO Brian Moynihan has a new BFF. His name is Warren Buffett. Heard of him?

Shares of the bewitched, bothered and bewildered bank were up 9% in early afternoon trading Thursday after Buffett's Berkshire Hathaway (BRKB) announced it was investing $5 billion in preferred shares of Bank of America (BAC, Fortune 500).
The news helped lift shares of other bruised financials as well. Shares of Citigroup (C, Fortune 500) and Morgan Stanley (MS, Fortune 500) each rose more than 3%.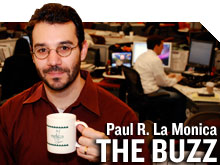 But BofA's stock is still down more than 40% year-to-date. And the initial Buffett bump was much bigger and faded quickly. BofA was up as much as 26% shortly after the market opened Thursday.
So is the Berkshire investment -- an Omaha stake if you will -- in BofA really the bottom for the stock and the rest of the banking sector? Probably not.
Buffett is not making a call on the near-term for BofA or other big banks.
What's clear from this investment -- which is similar to ones Berkshire made in Goldman Sachs (GS, Fortune 500) and General Electric (GE, Fortune 500) during the 2008 financial crisis -- is that he thinks the bank will eventually recover. And he's happy to get paid handsomely to wait while it happens.
Berkshire is buying preferred stock that pays a 6% annual dividend. The common shares that average schlubs like you and I are more likely to own pays a paltry penny per quarter share dividend. That works out to a yield of 0.5%.
"BofA may be a good value here but that doesn't mean it's a great stock for average investors," said Keith Springer, president of Springer Financial Advisors in Sacramento, Calif.
"Buffett knows that the government is not going to let BofA fail. So he's got a quasi-government insured CD with a 6% yield and upside potential," Springer added.
Other money managers said they also wouldn't rush back into BofA just yet simply because of Berkshire's blessing.
While BofA now has $5 billion it didn't have before, it still has legal risks tied to bad mortgage assets that not even Buffett can magically wipe away.
"This move by Buffett does show a lot of confidence in BofA. He's drawing a line in the sand on the stock. But at the same time, I still feel uncomfortable with bank stocks," said Craig Hodges, president of Hodges Capital on Dallas.
"I just don't know what the banks have on their balance sheets." Hodges added. His firm sold shares of BofA earlier this year and Hodges said he's still wary of most major banks.
Even fund managers who still own shares of BofA said that investors need to be cautious. The problems facing BofA may be surmountable, but that doesn't mean they will be solved quickly. BofA will likely be a slow-growth stock for a long time.
"Buffett sees value for three to five years, not three to five weeks or months," said Dan Genter, CEO of RNC Genter Capital, a Los Angeles-based investment firm that does own BofA shares. "BofA is not back on a solid track for double-digit earnings increases."
Genter said that the case for buying bank stocks now is vastly different than a few years ago. The days of banks churning out ridiculously strong earnings thanks to exorbitant risks are gone for good.
"Banks are the new utilities. Much of what they did that was highly profitable is now either rendered infeasible by the market or will be legislated out of existence," he said.
With that in mind, Genter said investors should look more closely at banks that, like utilities, pay big dividends. Although he still owns BofA, he said that he has larger positions in Wells Fargo (WFC, Fortune 500) and JPMorgan Chase (JPM, Fortune 500). Those stocks pay dividends that yield 2% and 2.9% respectively.
Sandy Villere III, co-manager of the Villere Balanced Fund (VILLX) in New Orleans, agreed that dividends are key. He owns two regional banks in his fund, Lafayette, La.-based IberiaBank (IBKC) and Cullen/Frost (CFR) of San Antonio. They both yield over 3%.
But he said he actually made a move similar to Buffett a few months ago and still owns some exposure to BofA.
Villere said his fund sold its stake in BofA common shares shortly after the company announced an $8.5 billion settlement with big investors in soured mortgage securities in June. He said he was nervous that not all investors would back the settlement and that the stock could take a further hit.
But he said he still liked BofA's long-term potential. So he bought convertible preferred shares of Bank of America instead. Those pay a healthy dividend.
"It's the same logic as Buffett," Villere said.
Still, the average investor is unlikely to score big investments in preferred shares like Buffett and other institutions. And it's worth pointing out that even after Berkshire invested in Goldman and GE in 2008, their shares took months to bottom.
The same thing may happen with BofA and the rest of the big banks.
"The banks have more trouble ahead. BofA may have all its laundry out on the line now, but the whole sector may follow suit," Springer said.
Reader comment of the week ... and slip sliding away? So many jokes about BofA earlier this week when shares were trading closer to $6 than $8 like they are now.
I tweeted about how BofA could juice its stock price by selling the iPhone 5. I suggested that the bank's celebrity voice-over spokesman Kiefer Sutherland could take over as CEO so Jack Bauer could battle short sellers.
Heck, I even compared former CEO Ken Lewis to Slimer in "Ghostbusters" in a BullHorn video with @reformedbroker Josh Brown.
But Daniel Gross of Yahoo Finance took me to task for missing an obvious reference to BofA's headquarters. "Can't believe that you have yet to use "charlotte's web" in a bank of america-related tweet," he wrote.
Ah yes. Wilbur! Better late than never.
Anyway, reader comment goes out today since I am out tomorrow. Kind of sad I won't be around to tweet about Bernanke and Jackson Hole. But oh well.
And although Hurricane Irene threatens to dampen the early part of a planned trip down to the Jersey Shore, the Buzz is eager for a much-needed vacation. I am also out all of next week and Labor Day. So buckle up, East Coast. See you in September. (Tuesday the 6th to be precise.)
The opinions expressed in this commentary are solely those of Paul R. La Monica. Other than Time Warner, the parent of CNNMoney, and Abbott Laboratories, La Monica does not own positions in any individual stocks.