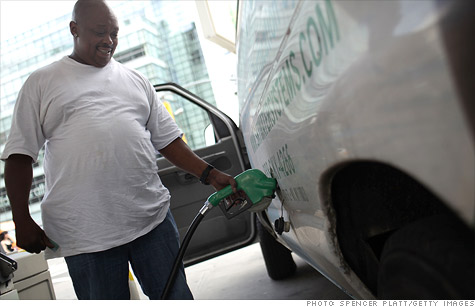 Analysts say the lower oil prices seen in the U.S. don't really reflect the true price of crude, and worldwide demand remains strong.
NEW YORK (CNNMoney) -- The price of U.S. oil has dropped nearly 25% since hitting its highs this spring, yet gasoline is down just 10%. So a big drop should be coming, right?
Sorta. Drivers can expect a bit of relief at the pump over the next few months, but they shouldn't look for too big a discount.
Many Americans have become conditioned to expect a sharp drop in gasoline prices in the fall as Labor Day, the traditional end to the summer driving season, approaches and as the nation shifts to less expensive "winter gas." Because cooler air is less conducive to smog formation, "winter gas" doesn't need to be refined as much.
Also adding downward pressure to prices: Hurricane Irene wasn't as bad as feared, the hostilities in Libya appear to be winding down, the dollar is gaining, and the economy is stuck in the doldrums.
On Tuesday, oil was trading at about $87 a barrel on the New York Mercantile Exchange.
But analysts are urging caution.
They say that the lower oil prices seen in the United States recently don't really reflect the actual price of oil in the global market, which is tracking closer to London's more expensive Brent crude. Plus, demand from the developing world remains strong.
"Our expectations are for crude to come a little lower, and that would be reflected in gas prices," said Phil Thompson, manager of market analytics at Mobius Risk Group, a firm that advises energy producers and big energy consumers.
Thompson foresees maybe a 30 or 40-cent drop in retail gas prices, currently running around $3.60, but that's about it.
It's possible gas prices might fall below $3, he said, but that would require "a major event" like European countries defaulting on their debt, which could drive the dollar sharply higher.
Why cheap U.S. oil doesn't mean cheap gas: The $87-barrel-of-oil mentioned above is for West Texas Intermediate (WTI).
Bought at distribution points in Cushing, Okla., it's the contract most often quoted in the media, and it used to be the contract that many other types of light oil, the best for making gasoline, were pegged to.
But now most of the oil used to make gasoline in the U.S. -- from places like Alaska, Louisiana, or Nigeria -- is pegged to the price of the more expensive London benchmark, known as Brent.
That's because there's a problem in Cushing.
Over the past several months oil production from North Dakotas' Bakken Shale, Canada's oil sands and other places in the middle of the continent has been on the rise.
Lots of that oil gets sent to Cushing, but there's been no new pipeline built out of Cushing to accommodate the new supply. So now that oil is stuck and there's an oversupply, which is driving down the price of U.S. oil.
"WTI is a false market," said Stephen Schork, publisher of the industry newsletter the Schork Report. Schork also expects just a 30 cent drop in gasoline prices over the next few months. "It's not a reflection of the price of oil," he said.
A truer reflection of the real price of oil is Brent, and it's at $110, down just 12% since its highs in April.
Strong demand despite Euro and U.S. woes: Analysts say the Brent price could fall a bit further, but not a whole lot more.
That's because worldwide, the economy isn't quite as bad as it appears from looking at just the United States or Europe.
Deutsche Bank recently cut its 2012 worldwide economic growth estimate from 4.4% to 3.9% -- down, but not to the anemic levels seen in the developed world.
"We believe [that] puts some pressure on oil prices in the near term, but not massive pressure," Adam Sieminski, the bank's chief energy economist, wrote in a recent research note.
Other factors supporting oil: The Chinese continue to fill their strategic petroleum reserve, Japan is still relying on diesel generators for electricity post-tsunami, and the Middle East is developing a love affair with, of all things, the air conditioner.
One wild card in all this is the dollar.
Mobius' Thompson thinks a severe crisis in Europe could could cause the dollar to skyrocket -- odds of which he puts at 10% or less. That, he said, could bring gas below $3.
But wishing for the dissolution of the European Union could be a bit harsh just to save a few bucks at the pump.