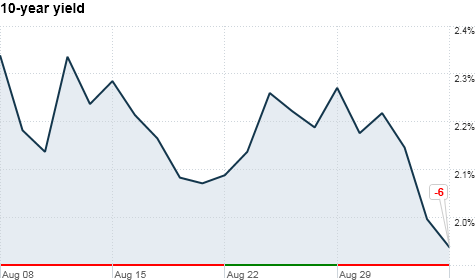 Click the chart to check the yield on Treasuries and other bonds.
NEW YORK (CNNMoney) -- Investors plowed into Treasuries Tuesday, as fears about a slowing U.S. economy and a deepening European debt crisis continued to grow, boosting demand for the safety of U.S. government debt.
As prices rose, the 10-year yield plunged to a record low of 1.91% in overnight trading, from about 2% on Friday. The benchmark yield has fallen beyond the levels it sank to during the height of the financial crisis, when it closed at low of 2.08% in December 2008.
The flight into Treasuries was sparked by worries that Europe's debt problems are quickly spiraling out of control.
"The focus is on Europe's economy, which is cooling faster than anyone anticipated," said Jim Vogel, head of agency debt research at FTN Financial. "And the problems in the hot spots -- Italy and Greece -- are still unresolved and potentially getting worse."
As Europe's money troubles worsen, investors are also grappling with an increasing number of signs warning that the U.S. economy may slip back into a recession.
On Friday, government data showed net zero job growth in August, the weakest jobs reading since September 2010.
The gloomy report puts greater pressure on President Obama, who is scheduled to unveil a big jobs proposal to a joint session of Congress on Thursday.
No matter what the president's plans are, Vogel said investors will need to be convinced that he has a broader base of support than he had this summer during the debt ceiling debates to get a proposal passed through Congress.
If they spot signs of more political wrangling, investors will likely stick to their U.S. Treasury investments, keeping yields at record lows.
Meanwhile, investors will also be gearing up for the Federal Reserve's two-day meeting later this month, tuning into speeches of individual Fed governors leading up to the main event for hints on what the central bank might announce.
Vogel said that last week's jobs report also raises odds that the Fed will take steps to spur economic growth. At this point, he's expecting they will make moves to lower long-term Treasury yields, after pledging last month to keep short-term interest rates low through the middle of 2013.
Treasury yields found some support a bit later Tuesday after the Swiss National Bank set a minimum exchange rate of 1.20 Swiss francs against the euro. Last month, the safe haven currency traded close to parity against the euro. The euro soared more than 8% against the Swiss franc following the announcement.
"Some of the flight into Treasuries earlier was investors leaving the euro, betting that it would sink lower," said Vogel. "But the Swiss Bank's measure reversed that trade and reduced some of the flows into Treasuries."
Other traditional safe havens also attracted jittery investors. Gold prices surged 2.5% to hit a high of $1,923.70 an ounce early Tuesday.