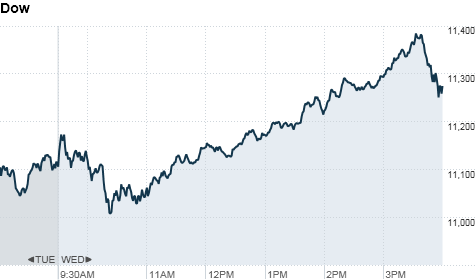 Click the chart for more stock market data.
NEW YORK (CNNMoney) -- Stocks ended sharply higher Wednesday following a choppy start, after key European leaders calmed jittery investors by insisting that Greece would remain a eurozone member and would achieve its fiscal targets.
The Dow Jones industrial average (INDU) shot up 280 points, or 2.5% before pulling back to end up 141 points, or 1.3%. The gains were broad, with Home Depot (HD, Fortune 500), Walt Disney (DIS, Fortune 500) and General Electric (GE, Fortune 500) leading the blue chips.
The S&P 500 (SPX) added 16 points, or 1.4%, and the Nasdaq composite (COMP) rose 40 points, or 1.6%.
Following a telephone conference call with Greek Prime Minister George Papandreou, French President Nicolas Sarkozy and German Chancellor Angela Merkel, a statement from Merkel's office stressed that the future of Greece is in the eurozone. And Papandreou reaffirmed his debt-ridden country's commitment to take the necessary steps to meet Greece's fiscal goals.
"Investors are looking for green shoots," said Frank Davis, director of sales and trading at LEK Securities. "But there's still no depth in any direction or market stability."
Investors have been parsing through the good, the bad and the downright confusing news about Europe's debt crisis throughout the day, which made for a choppy trading session.
Earlier, headlines suggesting that the Austrian parliament committee "rejected" the expansion of Europe's stability fund spooked investors and sparked a sharp sell-off.
But it turned out the headlines weren't exactly right.
A spokesperson from the Austrian finance ministry told CNNMoney that the Sept. 21 parliament vote to upgrade the stability fund will be delayed to late September or early October, due to a procedural hiccup. But he reassured that parliament has the simple majority needed to pass the measure.
"The market survived a false alarm out of Europe," said Scott Marcouiller, chief technical market strategist at Wells Fargo Advisors. "Today's events demonstrate how prone the market is to headline risk."
Investors also grappled with news that Moody's downgraded French banks Credit Agricole and Societe Generale. While the news was disappointing (though expected for some time), the downgrade wasn't as bad as some had feared.
And investors were further heartened by talks coming out of Europe that the European Commission was close to unveiling a proposal for a new common eurozone bond.
The idea of a Eurobond has been talked about lately, as a possible solution to ease the borrowing costs for the weaker members of the 17 euro area nations. But it's faced some opposition from more credit-worthy nations, which would face higher borrowing costs.
U.S. stocks managed to log late day gains Tuesday, after French banks BNP Paribas and Societe General debunked rumors that they were having trouble gaining access to funding.
Economy: The Producer Price Index, a measure of wholesale inflation, was unchanged in August, which was in line with expectations. The so-called core PPI -- which strips out volatile food and energy prices -- ticked up 0.1%, after increasing 0.4% the previous month.
Retail sales were flat in August, following a 0.3% rise the previous month. Economists were expecting that sales rose 0.2% in August. Excluding sales of volatile autos, sales edged up 0.1% last month.
Business inventories rose 0.4% in July. The reading was just short of economists expectations for a 0.5% increase.
World markets: European stocks trimmed morning gains and ended modestly higher. Britain's FTSE (UKX) 100 rose 1.2%, the DAX (DAX) in Germany rose 3.1% and France's CAC 40 (CAC40) added 1.3%.
Asian markets ended mixed. The Shanghai Composite (SHCOMP) gained 0.6% and the Hang Seng (HSI) in Hong Kong rose 0.1%, while Japan's Nikkei (N225) shaved 1.1%.
Companies: Shares of Hertz (HTZ, Fortune 500) spiked 13%, after Avis Budget Group (CAR, Fortune 500) said it is dropping its $1.5 billion bid for Dollar Thrifty (DTG) -- leaving Hertz as the sole bidder. Hertz and Avis Budget have been making rival proposals for Dollar Thrifty for more than a year.
Shares of cereal maker Ralcorp (RAH) sank 7% after ConAgra (CAG, Fortune 500) reiterated its $94 a share takeover offer, but said it would withdraw that bid if it wasn't accepted by Sept. 19.
Currencies and commodities: The dollar slipped against the euro and the Japanese yen, but rose versus the British pound.
Oil for October delivery slipped $1.30 to settle $88.91 a barrel.
Gold futures for December fell $3.60 to settle at $1,826.50 an ounce.
Bonds: The price on the benchmark 10-year U.S. Treasury dipped, pushing the yield up to 2%.

The 10-year yield fell through its long-term floor of 2% for the first time in history last month.