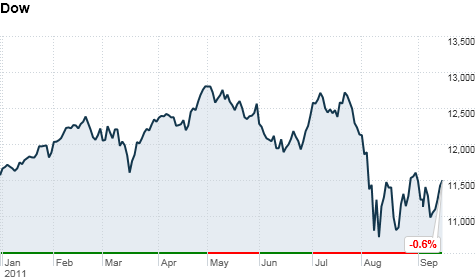 Dow
NEW YORK (CNNMoney) -- All eyes will focus on Federal Reserve Chairman Ben Bernanke and his team of nine as they spend two days mulling over what monetary policy levers to pull to give the stalled U.S. economy a boost.
The Federal Open Market Committee expanded its meeting to two days from one, which investors have taken as a sign that the policymaking committee will take action.

"Mr. Bernanke is first, front and center right now," said Nicholas Colas, chief market strategist at ConvergEx Group. "Investors think the prospect for a modified QE3 is already baked into the markets.
The Fed could try to pump money into the economy by purchasing bonds through a third round of quantitative easing, known as QE3.

But the modified version of QE3, dubbed Operation Twist, would mean the Federal Reserve would try to boost lending by swapping out short-term bonds in its portfolio with long-term Treasury bonds. The intended outcome: lower long-term interest rates without increasing the size of the Fed's balance sheet.
A failure to "twist" could force investors to flee risky assets, whereas a bigger boost to the economy in the form of buying up bonds -- traditional quantitative easing -- would likely cause the Dow, S&P 500 and Nasdaq to rise sharply.
The Fed and other central banks pushed the U.S. markets higher as they announced a coordinated effort that would pump dollars into European banks that are struggling to maintain an adequate supply of dollars. In recent weeks, U.S. investors have pulled out of Europe's financial institutions, fearing contagion from a possible default by Greece.
U.S. stocks posted solid gains Friday to clinch a five-day winning streak for the first time in more than two months. The Dow and S&P were each up around 5%. The tech-heavy Nasdaq climbed 6.3% for the week. The five-day move was the best in more than two years.
Still, even as central banks worked in concert to keep dollars flowing around the world, investors worry that European leaders won't ultimately forge a consensus to protect Greece and other member nations from defaulting on sovereign bonds.
"The S&P has been driven by European contagion for a long time," said Dean Curnett, CEO of Macro Risk Advisors, a derivatives broker-dealer. "For now some of the fear seems to have settled down. That could change quickly of course."
European leaders and bankers will continue to have an outsize effect on investor sentiment as the debt crisis in the Eurozone rolls on.
On the Docket
Monday: After the start of trade, the National Association of Home Builders and Wells Fargo will release a report with their housing affordability index. Economists polled by Briefing.com expect the reading stayed flat at 15 in January.
Home builder Lennar (LEN) will report its quarterly earnings before the bell.
Tuesday: The Federal Reserve begins its two-day interest rate policy setting meeting with a decision expected Wednesday afternoon.
Auto retailer AutoZone (AZO, Fortune 500) and consumer food company ConAgra (CAG, Fortune 500) report their earnings before the bell.
Tech companies Adobe Systems (ADBE) and Oracle (ORCL, Fortune 500) report earnings after the bell.
In economic data, Wall Street will get August housing starts and building permits from the Commerce Department at 8:30 a.m. ET.
Wednesday: The Mortgage Bankers Association (MBA) will release its index of mortgage applications for the week ended September 17.

The National Association of Realtors will release their August existing home sales data as well.
The weekly crude oil inventories report is also due in the morning.
Before the bell, General Mills (GIS, Fortune 500) will report quarterly results. After the bell retailer Bed Bath & Beyond (BBBY, Fortune 500) will report results.
Thursday: The Labor Department issues its weekly jobless claims data at 8:30 a.m. ET. Economists surveyed by Briefing.com expect weekly jobless claims rose to 417,000 claims last week compared with 428,000 claims reported the prior week.
The Federal Housing Finance Agency (FHFA) releases its July home price index after the start of trading.
The Conference Board's index of leading economic indicators is due in the morning. The index is expected to have risen 0.1% in August after having risen 0.5% in July, according to a consensus of economists surveyed by Briefing.com.
FedEx (FDX, Fortune 500) and Rite Aid (RAD, Fortune 500) will report results ahead of the opening bell. Sports apparel company Nike (NKE, Fortune 500) will report results after the bell.
Friday: There are no major economic events. Homebuilder KB Home (KBH) will report results before the open.