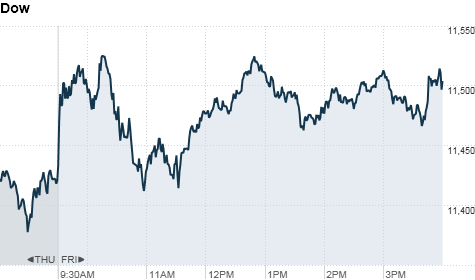 Click the chart for more stock market data.
NEW YORK (CNNMoney) -- U.S. stocks posted solid gains Friday to clinch a 5-day winning streak for the first time in more than two months.
The Dow Jones industrial average (INDU) gained 76 points, or 0.7%, the S&P 500 (SPX) added 7 points, or 0.6%, and the Nasdaq composite (COMP) edged up 15 points, or 0.6%.
The day's gains helped the Dow and S&P post their best weekly advance in more than two months, with each index up around 5%. The tech-heavy Nasdaq climbed 6.3% for the week, it's best 5-day move in more than two years.
Stocks had a strong start to the day, briefly slid into the red, and then bounced around in positive territory throughout the afternoon.
Friday's mild volatility was in part due to traders adjusting their portfolios during so-called "quadruple witching." The term refers to the phenomenon that takes place four times a year when several derivatives contracts expire at the same time -- those tied to market index futures, market index options, stock options and stock futures.
But investors' primary attention remains on Europe's debt crisis, as the region's finance ministers gather in Poland.
U.S. Treasury Secretary Tim Geithner is also attending the two-day meeting, where leaders are expected to continue to be supportive of Greece.
"We recognize the significant efforts made by the Greek authorities over the past year aimed at stabilizing public finances and reforming economy," said Eurogroup president Jean-Claude Juncker, at the meeting.
Overall, moves in the market were somewhat subdued Friday, as news from the meeting in Poland is not expected until the weekend, said Marc Chandler, global head of currency strategy at Brown Brothers Harriman.
Chandler said the focal point of the meeting is likely to be the expansion European Financial Stability Facility (EFSF), which is the bailout fund for Europe's cash-strapped countries, including Portugal, Italy, Ireland, Greece and Spain.
Despite the week's strength, stocks remain in the red for the year.
U.S. stocks closed higher Thursday as banks led the market higher, following a coordinated effort by five central banks to help ward off a credit crisis in Europe.
The European Central Bank, the U.S. Federal Reserve and three other major central banks agreed to step in to boost dollar liquidity for banks in Europe.
The move comes amid signs of a pullback in bank-to-bank lending, as European Union officials struggle to resolve long-standing sovereign debt issues.
But of course, Europe's underlying debt issues remain, and a lasting solution will be difficult to hammer out.
Economy: The University of Michigan's initial reading on its consumer sentiment index came in at 57.8 for September, above estimates for 56.3 and the August reading of 55.7.
Companies: Shares of Research in Motion (RIMM) fell 19% a day after the company announced grim second-quarter results that fell far short of Wall Street's sales and earnings forecasts.
RIM earned $329 million in the quarter, less than half of its profit a year earlier. RIM booked a one-time charge of $118 million for costs associated with a reorganization announced in July.
One day after the Swiss bank disclosed a $2 billion loss due to a rogue trader, UBS (UBS AG) shares rose 4%, as reports indicate the bank might be forced to consider layoffs.
And in a sign the loss could have long-term implications, Moody's placed the bank's credit rating on review for a possible downgrade.
Netflix's (NFLX) stock remained under pressure, with shares down 8%, making it a big laggard on the S&P 500. Netflix plunged 19% Thursday after the company cut its subscriber forecast for the current quarter, saying it now expects to end the period with 24 million customers -- down from the 25 million the company forecast just a few weeks ago.
World markets: European stocks closed mixed. Britain's FTSE 100 (UKX) ticked up 0.6%, the DAX (DAX) in Germany rose 1.2% and France's CAC 40 (CAC40) slipped 0.5%.
Asian markets ended higher. The Shanghai Composite (SHCOMP) added 0.1%, the Hang Seng (HSI) in Hong Kong gained 1.4% and Japan's Nikkei (N225) jumped 2.3%.
Currencies and commodities: The dollar strengthened against the euro, the Japanese yen, and the British pound.
Oil for October delivery slipped $1.44 to $87.96 a barrel.
Gold futures for December delivery jumped $33.30 to $1,814.70 an ounce.
Bonds: The price on the benchmark 10-year U.S. Treasury edged higher, with the yield slipping to 2.07% from 2.08% late Thursday.
-- CNN correspondent Jim Boulden contributed to this report.