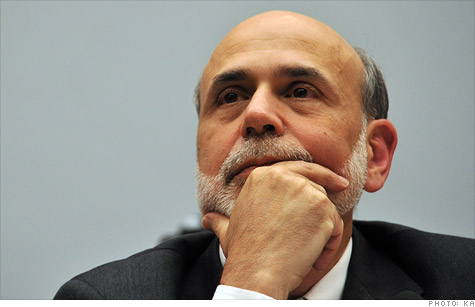 Republican leaders asked Federal Reserve Chairman Ben Bernanke to avoid further monetary stimulus.
NEW YORK (CNNMoney) -- Republican leaders in Congress have asked Federal Reserve Chairman Ben Bernanke to refrain from any further monetary stimulus during policy makers' two-day meeting ending Wednesday.
"Respectfully, we submit that the board should resist further extraordinary interventions in the U.S. economy, particularly without a clear articulation of the goals of such a policy, direction for success, ample data proving a case for economic action and quantifiable benefits to the American people," read a letter from Republican leaders and addressed to Bernanke.
The letter was co-signed by House Speaker John Boehner of Ohio, House Majority Leader Eric Cantor of Virginia, Senate Minority Leader Mitch McConnell of Kentucky and Senate Minority Whip Jon Kyl of Arizona.
"It is not clear that the recent round of quantitative easing undertaken by the Federal Reserve has facilitated economic growth or reduced the unemployment rate," read the letter.
Investors are watching the Federal Reserve meeting to see if policy makers try something a bit different: twisting the yield curve by selling short-term bonds and buying longer-term securities, in an effort to drive up short-term rates and push down long-term rates.
The Republican side of the aisle was having none of it. They seemed to be most worried about the specter of monetary stimulus.
"Although the goal of quantitative easing was, in part, to stabilize the price level against deflationary fears, the Federal Reserve's actions have likely led to more fluctuations and uncertainty in our already weak economy," read the letter. "We have serious concerns that further intervention by the Federal Reserve could exacerbate current problems or further harm the U.S. economy.
"To date, we have seen no evidence that further monetary stimulus will create jobs or provide a sustainable path towards economic recovery," the letter said.
Senator Charles Schumer, a Democrat from New York, urged Bernanke to "ignore" Boehner's letter.
"This is a heavy-handed attempt to meddle in the Fed's independent stewardship of monetary policy," said Schumer. "It should be ignored by Chairman Bernanke and the Fed's policymakers."
The Republican co-signers fell short of referring to further monetary stimulus as "treasonous" -- as Governor Rick Perry of Texas, a Republican presidential candidate, did back in August.
When asked if he thought it was appropriate for GOP leaders to tell the Fed what to do, House Democratic Whip Steny Hoyer said "it's a free country" but the Fed doesn't have to listen.
"The Republicans and Democrats and others have the right to make suggestions to the Fed or to the president or to the Congress," he said. "And very frankly, that's one of the glories of our country. So they have a right to do it. And of course, the Fed as an independent body has the right to say, 'Well thank you very much, but we don't agree.'"
-- CNN's Bob Kovach and Deirdre Walsh contributed to this report