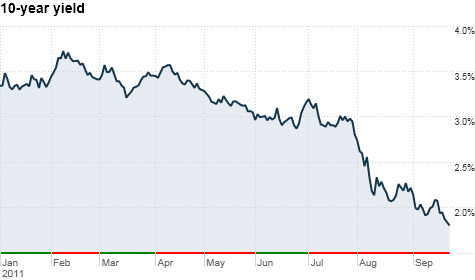 Click chart for more bonds and rates.
NEW YORK (CNNMoney) -- The Treasury market has been in a frenzy as investors bail out of stocks amid growing worries about a worsening debt crisis in Greece and Europe.
The yield on the benchmark 10-year note continued to hit record lows Friday, falling as far as 1.671% in the early going before bouncing back up to the 1.7% range.
All week, news out of Greece and Europe has been anything but positive, with the threat of a Greek default growing and rumors swirling about European banks needing recapitalization. The news in the U.S. wasn't much better, with yet another threat of a government shutdown looming on the horizon.
"It has been a very active and exhausting week, and the market appears to be showing signs of fatigue," said Kevin Giddis, president of fixed-income capital markets at Morgan Keegan, in a note to clients.
What a difference eight months make. The 10-year yield started the year at a healthy 3.3% and even threatened to top 4% in early February.
But then the eurozone debt crisis started to heat up. And investors fled from riskier assets and flocked into the safety of U.S. government-backed debt. That pushed yields sharply lower, with the 10-year first falling below 2% on Aug. 18.
Officials from the International Monetary Fund and World Bank are holding their annual meetings in Washington, D.C., this weekend, and investors don't want to be caught off guard by any big surprises.
"The markets are kind of taking a breather," said Kim Rupert, fixed-income analyst at Action Economics. "There's a lot of headline risk with the IMF/World Bank meeting."
While it's unclear if any progress can be made on Greece, the nation's finance minister, Evangelos Venizelos, is expected to be in attendance. Earlier this week, Greece announced more budget cuts in its ongoing effort to secure the next round of bailout funds.
In the U.S., the Federal Reserve is trying to jumpstart the economy through "Operation Twist" -- a program aimed at selling short-term notes and buying longer-dated bonds to spur bank lending.
But investors had largely baked that move in -- and were hoping for more aggressive action from the Fed -- so the announcement did little to inspire confidence in the recovery.
"It's hard to be a buyer of Treasuries at this level, but it's also risky to sell stocks," said Rupert. "You want to limit your exposure to anything negative."
Her advice? "Go into cash."