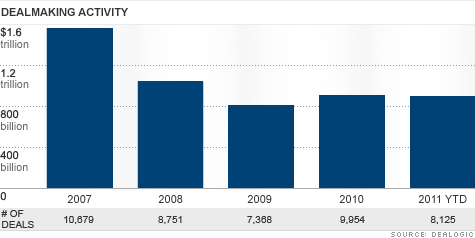 M&A activity in 2011 poised to top 2010.
CNNMoney (NEW YORK) -- M&A activity heated up this week but don't expect the latest big deal to spark a new round of merger mania.
Last weekend, Kinder Morgan Energy Partners (KMP) announced the second largest deal of 2011: a $38 billion acquisition of El Paso Corp. (EP, Fortune 500) that will roughly double its natural gas pipeline in the United States.
Because it's been a pretty good year for smaller mergers, even if one or two large deals get inked, merger activity could top 2010 levels. But that's still a far cry from the highs of 2007, when $1.6 trillion worth of deals got done in the U.S.
Experts say if the stock market can get back on track and lock in several strong weeks, M&A activity could heat up.
Kinder Morgan's announcement came on the back of the best week for the S&P 500 and Nasdaq since 2009.
Several M&A advisors said there have been a number of companies talking about deals worth more than $10 billion.
"Deals are more complicated and complex in this environment," said David Katz, a partner at Wachtell, Lipton, Rosen & Katz, who represented El Paso in its sale. "I do foresee more big deals going through."
The easier transactions for the see-sawing market to swallow will be corporate breakups or or what the industry calls "shrinking to growth," a common trend so far this year for diversified conglomerates.
That's what Abbott Laboratories (ABT, Fortune 500) just did, when it announced plans for a split earlier this week. The company will separate its pharmacy business from its consumer products offerings.
Abbott has plenty of company.
In late August, McGraw-Hill (MHP, Fortune 500) announced a split, at the urging of activist shareholders. Earlier this year, Sara Lee (SLE, Fortune 500) opted to separate up its food-service and retail business from its international food business. Food company Kraft (KFT, Fortune 500) followed suit informing investors of plans to split its global snacks businesss from its grocery units.
While the market likes spinoffs, there's still room for a few more major deals to get inked before 2011 closes, especially with corporations sitting on record amounts of cash.
Before August, when the markets were relatively sane and frothy, discussions over possible M&A transactions were kicking into high gear, according to several investment bankers. But deals, particularly large ones, take months to execute.
CEOs typically don't want to announce a deal on a day when the market turns down sharply. There have been many of those days recently. Between Aug. 1 and Oct. 1, the Dow dropped 300-plus points on six trading days, the only drops that extreme in 2011.
And during that time period, M&A activity slowed to a near standstill.
"This business is about CEO and board confidence," said Mark Shafir, global head of mergers and acquisitions at Citigroup (C, Fortune 500). "Clearly that's been shaken by what's going on in the macroeconomic environment."
Still if the market ekes out gains for even a brief window, companies and investment bankers could rush to bring the deals they've been working on for months to market.
"The gestation period for deals is elongated during this time of uncertainty," said Bob Profusek, chair of the law firm Jones Day's global M&A practice.
After a difficult third quarter for M&A, investment bankers are hungry to help big companies find ways to put that the estimated $1 trillion-plus in cash on their balance sheets to work.
Mega-deals are highly attractive for the steep fees they generate for advisors. For example, four banks and three law firms are expected to split up to $145 million in fees for the Kinder Morgan deal, according to Freeman & Co.
Beyond putting cash to work, several investment bankers said that large corporations are weighing mergers as a way to find growth both domestically and in emerging markets in a stagnant economy.
"We're in an anemic growth environment, so organic growth is very hard to find, said Jeff Raich, managing director and co-founder of Moelis & Company, a boutique M&A advisory firm. "Companies are therefore looking to M&A for growth opportunities."