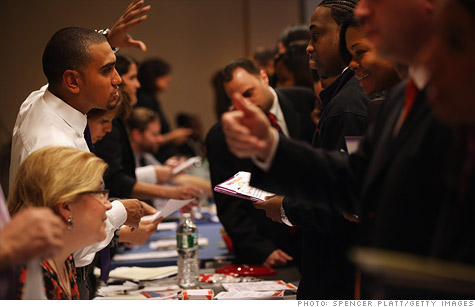 Planned layoffs dropped sharply in October.
NEW YORK (CNNMoney) -- Automatic Data Processing, a payroll-processing firm, said Wednesday that private-sector employers added 110,000 jobs in October, while outplacement consulting firm Challenger, Gray & Christmas reported a decline in job cuts.
The number of jobs created in September was revised up to 116,000 from the initially reported 91,000.
Small firms, with payrolls ranging from one to 49 employees and thought by many to be the engine of job growth, led the charge, adding 58,000 jobs, according to ADP.
Medium-sized businesses, with payrolls between 50 and 499 employees, added 53,000 jobs in the month, while the nation's largest businesses shed 1,000 jobs.
Additionally, all of the jobs were added in the service-producing sector.
"The latest ADP payroll employment report suggests that labor market conditions were weak but at least stable in October," said Paul Ashworth, the chief US economist at Capital Economics.
According to Ashworth, while there are job gains in the small and medium business sectors, employment at larger firms continues to be a point of concern.
"Looking at the breakdown, small and medium sized firms accounted for all of the gain, with employment at large firms basically unchanged," Ashworth said. "The gains were also exclusively in services, with goods producing employment declining slightly. So big manufacturing exporters have employment on hold."
"Today's ADP National Employment Report suggests that employment continued to grow moderately in October," said Joel Prakken, the chairman of Macroeconomic Advisors. "The recent trend in private employment is probably below a pace consistent with a stable unemployment rate and reflects the sluggish pace of GDP growth exhibited earlier this year."
A separate report showed a flicker of good news on the jobs front: Planned layoffs dropped 63% to 42,759 in October from the prior month.
There is, of course, a catch. That drop comes after planned layoffs hit a 28-month high in September, according to outplacement consulting firm Challenger, Gray & Christmas.
Government and financial sectors led the rebound, reporting far fewer layoffs in October than the previous month. Only 2,785 government job cuts were announced, down 95% from 54,182 cuts in September.
Financial sector layoffs dropped 98% to 497. But the troubled sectors, which lead all industries in number of layoffs for the year, aren't on the fast-track to recovery.
"The two sectors are not out of the woods, by any means," John Challenger, CEO of Challenger, Gray & Christmas, said in statement. "Most of the government cuts this year were at the state level. We have yet to see the full impact of mandated federal spending cuts."
Employers have now announced a total of 521,823 planned job cuts so far this year, up 16% from the 449,258 cuts announced over the same time period last year.
The Challenger report, and ADP's report on payrolls come in advance of the government's highly anticipated October jobs report on Friday.
Economists surveyed by CNNMoney predict the unemployment rate will hold steady at 9.1%, and that just 102,000 jobs were added in the month.