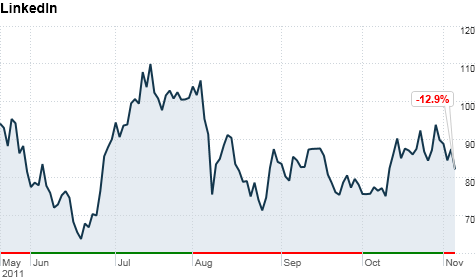 Click the chart to track LinkedIn's stock.
NEW YORK (CNNMoney) -- Everyone is talking about Groupon's IPO today. Even the news stream from Europe was overshadowed for a moment while the second largest U.S. Internet IPO took place.
Groupon (GRPN) sold 35 million shares at $20, raising $700 million. The online deal provider is making only 5% of its shares available for trading, leaving plenty of room for further offerings.
The opening print of Groupon's stock was $28, earning IPO buyers 40% overnight.
Meanwhile, another big Internet IPO from this year, LinkedIn (LNKD), released its second earnings report as a publicly traded company. The social network for professionals beat consensus estimates and raised guidance for next quarter, but its shares still plunged 4.3% on news of a $500 million secondary offering.
On the surface, the amount does not seem so big for an $8 billion dollar company, but it actually more than doubles its float (the number of shares that are publicly available for trading). LinkedIn, just like Groupon, offered only 5% of its outstanding shares on its IPO day back in May.
These are some of the more popular themes on StockTwits Friday:
TALENTEDBLONDE From what I hear everyone hates it, nobody uses it but damn. Its a Seinfeld stock: a stock @ nothing. $GRPN$$
IPOtweet With a $700 mil deal size, Groupon's #IPO is the 2nd largest US Internet IPO since Google http://stks.co/yPM $GRPN$GOOG$IPOS
spbaines $GRPN is *similar to* a ponzi scheme in that it needs an ever-growing number of suckers (merchants) to take a hit in order for owners to win
ldrogen $GRPN is a company that will either not be around in 2 years, or will find a way to make it work on a massive scale
fundmyfund even if you annualize this quarter's revenue for $LNKD it trades at a forward Price to Sales of 15. More nonsense.http://stks.co/yNE
ericjackson $LNKDIR confirmed IPO lockup expires on 21st -but follow on stock sale announced yesterday means many insider shares locked up 90 more days
jimmieB: $LNKD begin dilution. No position but wouldn't want to go long after that announcement.