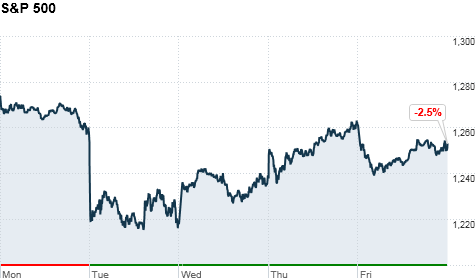 Click chart for more markets data.
NEW YORK (CNNMoney) -- U.S. stocks stayed under pressure with all major U.S. indexes falling about 2% for the week. Investors remained wary over whether Greece could default on its debt and what that might mean for the global financial system.
Greece once again dominated as the world awaits a vote on its prime minister's future, scheduled for Friday night. Future leadership of Greece is likely to decide whether the nation will take the necessary steps to avoid a default on its sovereign debt.
"We still don't have any clue about what the Greek government actually looks like," said Mark McCormick, a currency strategist at Brown Brothers Harriman.
And investors don't like uncertainty.
After another week of wild swings, the Dow Jones industrial average (DJI) ended the week down 2%. The S&P 500 (INX) lost 2.5% for the week, and the Nasdaq (COMP) dropped 1.9%.
Stocks rebounded from sharper losses during the day by Friday's close. The Dow Jones industrial average dropped 61 points, or 0.5%, and the S&P 500 lost 8 points, or 0.6%. The Nasdaq moved down 12 points or 0.4%.
Bank stocks were the among the day's biggest laggards. Bank of America (BAC, Fortune 500) saw its share price fall more than 6%, after disclosing that it would convert debt into more equity. Shares of Citigroup, (C, Fortune 500) Goldman Sachs (GS, Fortune 500), Credit Suisse (CS), and Morgan Stanley (MS, Fortune 500) also fell.
Meanwhile, G-20 leaders agreed to an 'action plan' to boost economic growth and stabilize the financial system as they wrapped up their meeting in Cannes, France.
Still, investors said the pledge didn't do enough to show that European politicians have tools to stop contagion in Greece from spreading throughout the banking system.
"We're in a confidence game now on Main Street and Wall Street," said Sal Catrini, managing director of equities at Cantor Fitzgerald. "The rally is tired."
October's jobs report gave some confidence to investors, because it revised previous reports on jobs growth upwards for August and September. The actual unemployment rate dipped to 9% from 9.1% the prior month, indicating that the job market could be gaining strength.
With most stocks down, investors finally had their shot to buy a sliver of shares of the daily deals site Groupon (GRPN), which started trading on Nasdaq Friday. Its shares immediately popped, jumping as much as 50%. Groupon priced its initial public offering at $20 a share late Thursday.
Stocks closed significantly higher Thursday, as investors focused on the European Central Bank's surprise rate cut and mostly shrugged off fears over Greece.
Economy: The monthly jobs report showed that the U.S. added 80,000 jobs in October. Economists surveyed by CNNMoney were expecting a gain of 98,000 jobs in October.
Companies: Before the market open, Jon Corzine resigned as the CEO of bankrupt brokerage firm MF Global. He said he won't seek severance pay.
Late Thursday, bailed-out insurance firm AIG (AIG, Fortune 500) posted a net loss of $4.1 billion, or $2.16 a share, for the third quarter. While analysts hadn't expected the company to post a profit, the size of the loss exceeded expectations.
World markets: European stocks closed lower. Britain's FTSE 100 (UKX) was down 0.3%, the DAX (DAX) in Germany fell by 2.6% and France's CAC 40 (CAC40) lost 2.1%.
Asian markets ended higher. The Shanghai Composite (SHCOMP) added 0.8%, the Hang Seng (HSI) in Hong Kong jumped 3.1% and Japan's Nikkei (N225) added 1.9%.
Currencies and commodities: The dollar rose against the British pound, dipped against the euro and was flat versus the Japanese yen.
Oil for December delivery added 19 cents to $94.26 a barrel.
Gold for December delivery slipped $9.10 to $1,756.00 an ounce.
Bonds: The price on the benchmark 10-year U.S. Treasury dipped, pushing the yield to 2.10%.