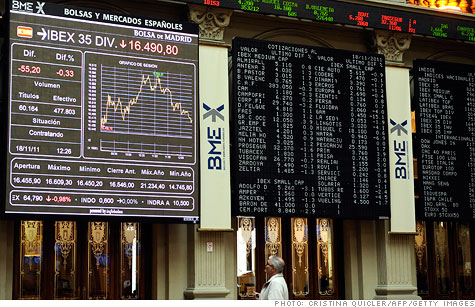 Spain's new government failed to inspire faith in its bonds, as the yields in the most recent t-bill auction were sky-high.
NEW YORK (CNNMoney) -- Spain's newly-installed government has done little to restore faith in the country's economy so far, with the first post-election debt auctions drawing sales at their highest rates in years.
"The worries of the last couple of weeks continue to fester amid poor liquidity," said European bond analyst Martin Harvey of Threadneedle in London. "We haven't seen any details of new measures to be implemented by the incoming government, whose election manifesto was intentionally vague."
Spain's auction of three-month bills, or letras, brought in an average yield of 5.11% on Monday. That's more than twice the 2.29% yield that the bills brought in just a month ago.
The auctions of six-month letras showed an equally dramatic increase in month-over-month yields. The auction of six-month bills drew an average 5.23% yield, compared to 3.30% a month ago.
Rising yields mean cheaper prices for the bonds and bills, but higher yields also mean higher risk.
Compounding the problem, the yield on the Spain's 10-year bonds, considered the benchmark of national debt, edged up to 6.6% on Tuesday.
That's flirting with the 7% bailout danger zone. In fact, the yield on Spain's 10-year note came within spitting distance of that level just last week.
Even though 7% does not automatically trigger a bailout, it serves as a harbinger because that's the level exceeded by Greece, Portugal and Ireland before they got bailed out by their eurozone neighbors.
Spain is the fourth-largest economy in the eurozone, behind Italy. And yields on Italian 10-year bonds have already flirted above that 7% level a few times over the past couple of weeks.
Harvey said that rising yields reflect the widely-held expectation that Spain will fail to meet its target of reducing its deficit to 6%.
The Spanish economy is interminably sluggish, with its astronomic unemployment rate exceeding 20% and its high levels of household debt.
But on the bright side, Spain's debt-to-GDP ratio is 60%, one of the lowest ratios in Europe, and the country is considered solvent with little risk of default.
Just last weekend, Spaniards voted in a new government, led by President Mariano Rajoy of the conservative Popular Party, on the hopes that it could lift the country out of its economic stagnation.
Of course, the new government won't be able to take any action until it's sworn in next month, noted Harvey.