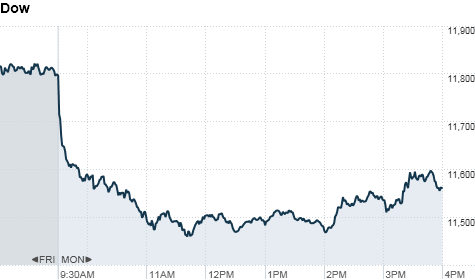 Click chart for more markets data.
NEW YORK (CNNMoney) -- Stocks capped off a brutal day on Wall Street down 2%, as investors remained on edge about the lack of progress leaders have made solving U.S. and European debt problems.
"This lack of trust continues to build on both sides of the Atlantic," said Ryan Detrick, senior technical strategist at Schaeffer's Investment Research. "Global leaders don't appear able to do much to fix continuing debt issues."
That uncertainty caused all three major indexes to fall more than 2.5% for most of the trading day with the Dow losing more than 300 points at times. The Dow Jones industrial average (INDU) closed 249 points lower, or down 2.1%; the S&P 500 (SPX) lost 23 points, or 1.9%; and the Nasdaq composite (COMP) fell 49 points, or 1.9%.
All 30 Dow stocks ended the trading day in the red, with the blue-chip index sliding into negative territory for the year. The S&P 500 and Nasdaq are already both down roughly 5% for the year.
The selling was broad, with financial shares among the biggest losers. Shares of JPMorgan Chase (JPM, Fortune 500), Citigroup (C, Fortune 500), Morgan Stanley (MS, Fortune 500) and Bank of America (BAC, Fortune 500) all finished down between 2% and 6%.
"With all this global uncertainty, there's a worry about exactly how much exposure financials have," said Detrick. "When you have big sell-offs, investors have a tendency to sell first and ask questions about financials later."
Investors are growing increasingly concerned that Congress's failure to act could cause Moody's and Fitch to consider downgrading U.S. debt, following S&P's decision in August to take away its AAA rating.
"There's a real risk of further downgrades now," said Scott Clemons, chief investment strategist at Brown Brothers Harriman. "Moody's and Fitch could take this as an opportunity to say that S&P got this right."
Congress' super committee, which had been given extra powers to tackle the U.S.'s seemingly intractable debt problems, is expected to admit Monday that it could not agree on $1.2 trillion in budget reductions.
Meanwhile, investors couldn't take any solace from Europe. Intensifying worries about the eurozone debt crisis pummeled European markets.
Moody's issued a warning about France's credit outlook, and Fitch said European banks may be forced to cut funding to emerging financial institutions if the crisis worsens. Meanwhile, grim comments by a high-ranking Chinese official about the global economy added to the sell-off.
U.S. stocks ended Friday with little change, but it was a roller coaster week on Wall Street. The Dow finished the week down 2.9%, while the S&P lost 3.8% and Nasdaq slid nearly 4%. The losses were the worst in two months for all three indexes.

World markets: European stocks closed the day down more than 2%. Britain's FTSE 100 (UKX) slid 2.6%, the DAX (DAX) in Germany and France's CAC 40 (CAC40) both tumbled 3.4%.
Moody's issued a warning on France's creditworthiness Monday, saying that rising interest rates on French government debt caused the difference in yield between French and German 10-year bonds to widen more than 200 basis points last week -- a record for the eurozone.
"Elevated borrowing costs persisting for an extended period would amplify the fiscal challenges the French government faces amid a deteriorating growth outlook, with negative credit implications," Moody's said in a statement.
Asian markets ended lower. The Shanghai Composite (SHCOMP) slipped 0.1%, the Hang Seng (HSI) in Hong Kong dropped 1.4% and Japan's Nikkei (N225) shed 0.3%.
Economy: Existing home sales rose 1.4% to an annual rate of 4.97 million during October. That's better than the 4.85 million expected by analysts and slightly higher than the 4.91 million in September.
Companies: Gilead Sciences (GILD, Fortune 500) said Monday it plans to buy drug developer Pharmasset (VRUS) for $11 billion. Shares of Pharmasset soared nearly 85%, while Gilead shares fell 9%.
LinkedIn' (LNKD)s shares closed down roughly 3% as its lock-up period expired Monday rebounding from drops of nearly 8%. Fellow social media stock market newcomer Groupon (GRPN)'s shares fell 10%
Shares of Hong Kong-based Focus Media (FMCN), a firm with in-store advertising displays in China, fell 38%, after the activist hedge fund Muddy Waters issued a report questioning the company's accounting.
Shares of Hewlett-Packard (HPQ, Fortune 500) moved up in after hours trading as the computer manufacturer beat estimates when it reported quarterly earnings after the close.
Currencies and commodities: The dollar gained against the euro, the British pound and the Japanese yen.
Oil for January delivery slipped 50 cents to $97.17 a barrel.
Gold futures for December delivery lost $46.50 to $1,678.60 an ounce.
Bonds: The price on the benchmark 10-year U.S. Treasury rose, pushing the yield down to 1.96% from 2.01% late Friday.