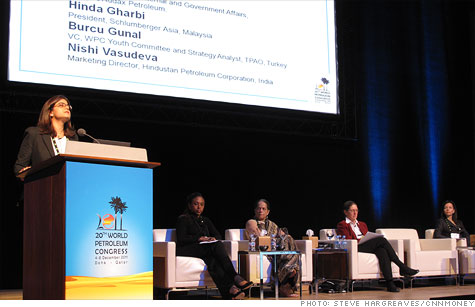 In one of the most-male dominated industries, female oil executives offer ways to right the imbalance.
DOHA, Qatar (CNNMoney) -- When a 20-year old Dorothy Atake started working in the Nigerian oil industry two decades ago, fresh out of college, she wasn't allowed to spend the night on the offshore oil platforms.
When Hinda Gharbi started, there often weren't any bathrooms for women set up in the field.
Nine positions and seven countries later, Gharbi is president of Schlumberger Asia, a branch of the oil field services giant. And she says the company now at least makes sure there are women's bathrooms at all Schlumberger (SLB) sites.
Bathrooms are one thing, but getting more female executives is another matter. That's what many women are striving for, especially as the aging male-dominated workforce retires.
"This is a major issue in the industry," said Gharbi, speaking on a panel devoted to the subject at the World Petroleum Congress in Qatar. "We need to tap the full talent that is out there."
Numbers are hard to come by, but it's safe to say that a very small number of women have leadership roles in the oil industry.
"Despite proven technical competence at work, women continue to be underrepresented in leadership positions," said Nishi Vasudeva, director of marketing at India's Hindustan Petroleum Corporation.
Vasudeva and others offered a variety of solutions. Most were concepts as opposed to solid plans, and included things like encouraging women to network and pursue more high-profile projects, establishing better mentoring programs, and involving men more in the gender discussion.
Some of the advice was fit for women in all fields. It centered around making women feel comfortable striving for positions of power, even if it means a bit of adapting at home.
Atake, who is now manager of external and government affairs at Sinopec Addax Petroleum in Nigeria, said that it's important to involve the husbands -- make them feel included, even try to get them to relocate with you if you are given an overseas assignment.
"Some husbands resist when you start to rise, they feel threatened," she said. "You need to bring your husband along."
Most of the panelists, all high-ranking executives in the oil industry, were married and had children.
"There's always a question of what to do with partners," said Gharbi. "It doesn't have to be an either-or decision, but you have to accommodate."
It was noted that in some places, women have risen to the very top of the oil industry, at least on the government side.
The current oil minister in Nigeria is a woman, and Qatar has had a female in the post before. Angola has had three women oil ministers, said Eve Sprunt, a business development manager at Chevron (CVX, Fortune 500).
"Many of the so-called developing countries are more advanced with allowing women to progress to leadership positions than the so-called developed countries," she said.