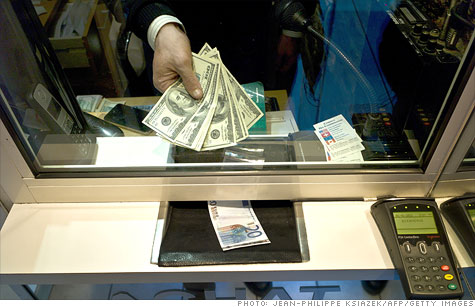 Europe's debt crisis has pressured the euro to a 16-month low against the dollar.
NEW YORK (CNNMoney) -- Investors set aside their worries about Europe Tuesday after comments from credit ratings agency Fitch raised hopes for an end to the eurozone debt crisis late in the year.
Stocks in Europe and the United States moved higher, while yields on Italian and Spanish bonds fell, as traders embraced riskier assets. Shares of U.S. banks, often seen as a proxy for worries about Europe, were among the best performers.
But the gains were tenuous and traders said the market remains vulnerable to short-term shocks out of Europe, including this week's auctions of Italian and Spanish debt.
"I wouldn't say we're in the clear yet," said Sharon Stark, head of fixed-income at Sterne Agee. "The second half depends a lot on Italy and Spain, as well as how the Greek situation is resolved."
Tuesday's stock gains were driven in part by comments from Fitch's David Riley, who manages the agency's sovereign group.
At a presentation in London, Riley outlined the economic and political challenges facing eurozone governments as they seek to borrow about €2 trillion this year, with more than half facing the prospect of a credit downgrade.
But he suggested that "a gradual economic recovery" later in the year "could mark the beginning of the end of the crisis." Riley said economic "imbalances" in Europe are improving and that "headwinds" from the banking sector and government austerity should begin to ease near the end of 2012.
Investors were also encouraged by news that Fitch does not anticipate a downgrade of France's top-tier credit rating this year. Rival credit rating agency Moody's has identified France as the AAA-rated nation most at risk of a downgrade.
Of course, Fitch's upbeat outlook is fraught with risks.
"The market seems to be hoping that EU leaders will start to get their fiscal house in order," said Nick Stamenkovic, market strategist at RIA Capital Markets in Edinburgh. "But significant headwinds persist."
For one, the eurozone is expected to suffer a mild recession this year as governments spending cuts take their toll on economic activity. The fear is that policymakers will cut too drastically, leading to a deeper recession that could exacerbate default fears and possibly lead to a break-up of the euro.
"The risk of a vicious cycle of stagnating economies fueling worries over the solvency of some governments and banks is a real one," said Riley.
Meanwhile, Italy and Spain need to refinance hundreds of billions of euros in the next few months by issuing bonds. Investors have been demanding higher interest rates on Italian and Spanish bonds amid concerns about the governments' ability to enact reforms.
Greece, the nation at the heart of the debt crisis, is also a major concern. The government in Athens needs to push through yet another round of austerity measures to secure more bailout funds from the European Union and International Monetary Fund.
At the same time, a deal with private sector investors and banks over a "voluntarily" writedown of the value of Greek government bonds by 50% has yet to be finalized. Many analysts expect Greece to face a so-called hard restructuring of its massive debt load at some point this year.
On the bright side, concerns about a credit crunch in Europe have eased somewhat, after the European Central Bank announced a series of "non-standard" measures last month to boost liquidity in the banking system. But investors are still nervous about banks' financing needs as new capital requirements come into effect later this year and conditions in the bank funding market remain chilly.
"The worst of the eurozone mess is still ahead of us," said Bob Janjuah, a fixed-income strategist at Nomura Securities, in a note to clients.