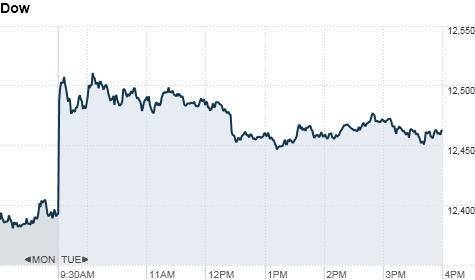 Click the chart for more stock market data.
NEW YORK (CNNMoney) -- U.S. stocks advanced Tuesday, on the back of gains in global markets, as investors grew optimistic following upbeat comments about Europe and a decent start to quarterly corporate results.
The Dow Jones industrial average (INDU) rose 70 points, or 0.6%, and the S&P 500 (SPX) added 11 points, or 0.9%. Both indexes finished at their highest levels since July. The Nasdaq composite (COMP) increased 26 points, or 1%.
The gains were led by financial stocks. Bank of America (BAC, Fortune 500) surged almost 6%, making it the best performer in the Dow. Morgan Stanley (MS, Fortune 500) and Goldman Sachs (GS, Fortune 500) climbed about 4%, while Citigroup (C, Fortune 500) and JPMorgan Chase rose between 2% and 3%.
Tuesday's broad move higher came as investors found comfort in Fitch Rating's comments about Europe being on the right path toward solving its debt problems.
"The unwinding of the imbalances that led to the crisis is well underway, and the headwinds ... should begin to ease toward the end of the year," said David Riley, head of Fitch's sovereign group, at a presentation in London.
On the sidelines of the presentation, Fitch officials also reiterated the agency's December stance that it doesn't plan to downgrade AAA-rated France this year.
Fitch's head of ratings also indicated there's a "significant chance" of a downgrade for Italy. The ratings agency plans to make a decision on all the European countries it currently has on negative watch by the end of the month.
A solid start to U.S. quarterly results also brightened the mood. Late Monday, investors brushed off Dow component Alcoa (AA, Fortune 500)'s fourth-quarter loss as the company topped sales estimates and issued an upbeat outlook for aluminum demand in 2012.
While no major corporate reports are scheduled for Tuesday, the rest of the week will bring reports from Lennar (LEN) and JPMorgan Chase (JPM, Fortune 500).
Overall, earnings for companies in the S&P 500 are expected to be up 7.5% in the final three months of 2011 versus the same period in 2010, according to research from S&P Capital IQ.
Stocks managed to eke out gains Monday as investors remained on edge about Europe's ongoing crisis, while bracing for corporate earnings.
World markets: Britain's FTSE 100 (UKX) gained 1.5%, the DAX (DAX) in Germany added 2.4% and France's CAC 40 (CAC40) climbed 2.7%.
European bank shares traded on the New York Stock Exchange also posted solid gains early Tuesday. Shares of Deutsche Bank (DB), UBS (UBS) and Credit Suisse (CS) all rose.
Asian markets ended higher. The Shanghai Composite (SHCOMP) rose 2.7%, while the Hang Seng (HSI) in Hong Kong ticked up 0.7% and Japan's Nikkei (N225) added 0.4%.
Companies: Shares of Tiffany (TIF) slid after the luxury retailer cut its outlook for the year, blaming weak holiday sales in the United States and Europe.
On the upside, Lululemon Athletica's (LULU) stock jumped after the apparel maker raised its fourth-quarter earnings guidance.
Liz Claiborne (LIZ) shares tumbled after the apparel company lowered its 2012 outlook and announced the departure of its chief financial officer, Andrew Warren. Warren is leaving the company to work as CFO at Discovery Communications (DISCA).
Liz Claiborne is changing its name to Fifth & Pacific Companies, and will trade under the ticker symbol FNP starting in May. The company sold its namesake brand to J.C. Penney (JCP, Fortune 500) in October.
Shares of GlaxoSmithKline (GSK) fell following reports that the drugmaker was trying to sell the remainder of its over-the-counter brands as soon as possible. Last month, Glaxo sold brands, including Beano and Ecotrin, to Comet and Pediacare maker Prestige Brands Holdings (PBH) for $660 million.
Share of NYSE Euronext (NYX, Fortune 500) rose sharply following reports that the European Union's antitrust regulator may block the stock exchange's planned merger with Deutsche Boerse, which would create the world's largest stock exchange operator. Both companies said they have not received an official decision from the European Commission, adding the the final ruling is due next month.
Economy: The Census Bureau reported that wholesale inventories for the month of November rose 0.1%. Analysts surveyed by Briefing.com were expecting inventories to have increased by 0.6% in November, after expanding by 1.2% in October.

Currencies and commodities: The dollar fell against the euro, the British pound and the Japanese yen.
Oil for February delivery added 93 cents to settle at $102.24 a barrel.
Gold futures for February delivery gained $23.40 to settle at $1,631.50 an ounce.
Bonds: The price on the benchmark 10-year U.S. Treasury fell slightly, pushing the yield up to 1.97% from 1.96% late Monday.