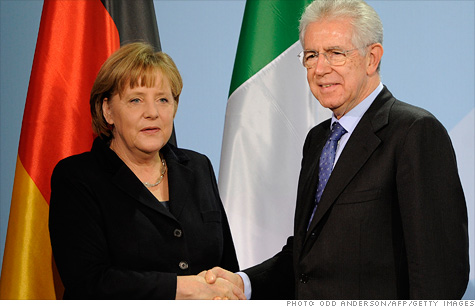 German Chancellor Angela Merkel praised Italian Prime Minister Mario Monti's efforts to reform his nation's economy and cut government spending after a Wednesday meeting in Berlin.
NEW YORK (CNNMoney) -- The leaders of Germany and Italy sought to present a united front Wednesday in the fight to resolve the eurozone debt crisis and revive the ailing European economy.
German Chancellor Angela Merkel praised the efforts of Italian Prime Minister Mario Monti to cut government spending and make his nation's economy more competitive.
"We have followed with great respect how quickly the measures are being implemented," said Merkel. "The work of the Italian government is being honored."
Monti said Italians support a "very hard series of measures," adding that Europe "doesn't have to fear any more that Italy is a possible source of contagion."
Italy has been a big worry for global investors in recent months. The nation's economy has been stagnant for a decade and its borrowing costs have ballooned, raising concerns about the government's solvency.
Monti acknowledged that high interest rates could have been justified when market participants were uncertain about Italy's economic policies. "But not anymore," he said, adding, "especially after representatives of those same markets have said they appreciated the efforts [Italy] made."
That assertion will be put to the test this week when the Italian government will offer €8.5 billion in bills Thursday and up to €4.75 billion in bonds Friday.
On Wednesday, yields on 10-year Italian bonds eased, but still held above the key 7% threshold.
The meeting in Berlin between Merkel and Monti was the latest in a series of talks this week among top European Union leaders as they piece together a solution to the long-running government debt and banking problems in the eurozone.
Merkel met with International Monetary Fund director Christine Lagarde late Tuesday and French President Nicolas Sarkozy Monday. Lagarde will meet with Sarkozy later Wednesday in Paris.
Merkel and Sarkozy will travel to Rome for more talks with Monti on Jan 20. Then, the top leaders of all 27 members of the EU will gather in Brussels on Jan. 30 for their first summit of the year.
On Wednesday, Merkel and Monti discussed the situation in Greece, where Prime Minister Lucas Papademos is under pressure to push through reforms needed to secure additional bailout funds.
Merkel said the first step in resolving the debt crisis is to "create the preconditions" for a second bailout for Greece.
EU leaders agreed in October to provide a second €130 billion rescue package for Greece and announced a deal with private sector investors to voluntarily write down the value of Greek government bonds by 50% as part of a debt exchange.
But negotiations with the private sector have stalled and there is still disagreement among some policymakers over whether requiring Greece to enact more austerity as a condition of a second bailout will help or hurt the nation's fragile economy.
"The talks with banks are being pushed so that the question of Greece can be solved rationally, so that we can then focus on structural reforms in the euro zone as a whole," said Merkel.
Still, European leaders are optimistic that a proposed fiscal compact, designed to ensure that governments do not spend beyond their means and rack up unsustainable debts, will be signed by the end of the month.
"There is work to be done but there is a good chance that we can expect significant progress or a political conclusion already on Jan. 30," said Merkel.
The terms of the pact include, among other things, a balanced budget requirement with an "automatic correction mechanism," and a provision to make national budget policies subject to EU authority "ex ante," or before the fact.
The political leaders of the 17 eurozone nations, which share the embattled single euro currency, agreed in principle to abide by the pact following a summit on Dec. 9. But the agreement is still subject to parliamentary approval in some member states.
Merkel also suggested that Germany, the eurozone's largest economy, could commit more capital to the European Stability Mechanism, which is expected to come into effect this year.
But Merkel was careful to say that Germany would contribute more capital to the fund only if necessary and other eurozone governments do the same.
The ESM would enhance or replace the eurozone's current bailout fund, known as the European Financial Stability Facility. European leaders have said they will decide in March on a proposal to put more capital into the €500 billion ESM.
-- CNN's Diana Magnay contributed reporting from Berlin.